Published: Tuesday, January 24, 2023 11:57 AM
General Updates from Senator Mike Simmons
Dear Neighbor,
I hope you had a safe and relatively quiet holiday season. The 2023 year is off to a very busy start. I am personally proud of the historic, nine-day Lame Duck Legislative Session we wrapped up last week that included passage of major legislation including one of the strongest assault weapons bans in the country, sweeping protections for reproductive rights and gender-affirming care, paid leave for workers, name change and birth certificate legislation, and new year-over-year funding for affordable housing.

Caption: Being inaugurated holding a photo of my mom and me together at my college graduation! Even though she could not physically be here, her memory and legacy shape who I am, how I show up, and my deep dedication to our diverse communities of the 7th District.
I also took the oath of office and was sworn in to a second term representing our diverse communities in the Illinois Senate! I was inaugurated holding a photo of my mother Ramona, who until her untimely passing in 2020, was a longtime salon owner in Rogers Park running Salon Pastiche on Loyola Avenue for 25 years. Our first day of the Lame Duck Session was Jan. 4, which is her death anniversary, and I intentionally decided to recommit to fighting for a world she'd want to raise her children in and didn't live long enough to see. I'll be fighting for our district this term and doing so in her memory. Read on for specific legislative and community updates, and for a photo recap from my swearing-in!
Sincerely,
Mike Simmons
State Senator | 7th District
---
Legislative Updates
Assault Weapon Ban Signed into Law: Lives Will Be Saved
Caption: I advocated for months in the Senate firearms legislative working group of which I was a member, and helped fight for robust legislation which passed in the Senate last week that bans the sale and manufacturing of assault weapons and high capacity magazines and was signed into law by Governor Pritzker on Tuesday, Jan. 10.
We have taken a monumental step forward in passing HB 5471, the Protect Illinois Communities Act, which will save lives and rebuild communities. The gun safety legislation also places a ban on rapid-fire devices and increases the duration of a Firearm Restraining Order from six months to up to one year. Gun violence has rocked our society - from neighborhoods in Chicago, to suburbs and towns all across Illinois. We have made historic progress by passing one of the strongest assault weapon bans in the country in partnership with community advocates including Moms Demand Action - Everytown for Gun Safety, Brady United Against Gun Violence, Giffords PAC. I also want to thank constituents from our district who are survivors of gun violence who we convened in our People's Legislative Council for 7th District survivors of gun violence to help shape my advocacy on this gun legislation. I am most proud of the ordinary people – moms, siblings, and community members – who applied pressure and helped forge the political will to pass strong policy to get weapons of war off our streets and impose enforcement mechanisms that will help make our communities safer.
Thank you to so many of my constituents whose lives have been directly impacted by gun violence who have partnered with my office to make our advocacy efforts on gun control more robust and directly responsive to the lived experiences of 7th District residents.
Legislation to Protect Access to Abortion and Gender Affirming Care in Illinois
Caption: At the bill signing for HB4664, along with House sponsor Rep. Kelly Cassidy, Senate sponsor Celina Villanueva, and our colleagues and advocates who helped shape the legislation. I was proud to support this historic legislation that will advance protections for abortion and gender-affirming care, which passed the Senate on Tuesday, Jan. 10 and was signed into law on Friday, Jan. 13.
While Illinois has some of the most extensive protections for reproductive health laws and gender-affirming care in the country, more work had to be done to further enshrine protections in Illinois as many neighboring states have acted to diminish the rights of women, transgender youth, and the LGBTQ+ community. For months I advocated in the Senate legislative working group on reproductive rights for robust protections that would add capacity for abortion providers, include protections for gender-affirming care, and include shield protections among other provisions. I am proud that we succeeded in getting an inclusive bill, and I am proud to have voted in favor of House Bill 4664, the Patient and Provider Protection Act.
This law states Illinois health care providers will be protected from being penalized for providing care, including abortion care and gender-affirming care that has been outlawed in another state but remains legal in Illinois, and people in Illinois won't be punished for seeking reproductive health care or gender-affirming care that is lawful here. Our state also will not honor subpoenas or cooperate with another state that is trying to prosecute a family or person for seeking gender-affirming care. This law also protects the right to choose by establishing a counterclaim for individuals who have a judgment entered against them in another state for reproductive health care that is legal in Illinois. It also protects in vitro fertilization and permits birthing centers to provide clinical reproductive care.
I strongly supported these protections. There is a movement right now targeting trans youth, LGBTQ+ people, and women's reproductive rights in our country. We must stay vigilant and pass strong, far-reaching legislation that protects women's reproductive rights and protects access to gender-affirming care for transgender and non-binary people, and trans youth.
Name Change Registration Bill
I am proud to have championed House Bill 2542, legislation sponsored by Rep. Kelly Cassidy in the House, and that passed the Senate allowing individuals in certain groups to file for a legal name change for the reasons of marriage, transgender and nonbinary identity, religious beliefs or status as a survivor of trafficking.
All those in Illinois who identify as transgender or non-binary should have the ability to have their government names reflect who they are. Identity is powerful and is elemental to who we are as human beings. I am proud to have fought for this legislation in partnership with on the ground organizations such as the Chicago Therapy Collective in Andersonville, Life is Work, Brave Space Alliance, Equality Illinois, and so many others. It is beautiful to see so many grassroots groups fighting for our diverse LGBTQ+ communities as our rights and well-being have been under attack by other state legislatures and right-wing media, especially the rights of trans-youth. As Illinois' first openly LGBTQ+ state senator, I will always stand proudly with LGBTQ+ grassroots groups in fighting unapologetically for our human rights.
I also championed House Bill 9, which makes it easier for an individual to change the gender on their birth certificate by no longer requiring a declaration by a medical provider.
House Bill 9 passed the Senate Friday, Jan. 6 and House Bill 2542 passed the Senate on Tuesday, Jan. 10. Both bills now await the Governor's signature.
Paid Leave for Single Parents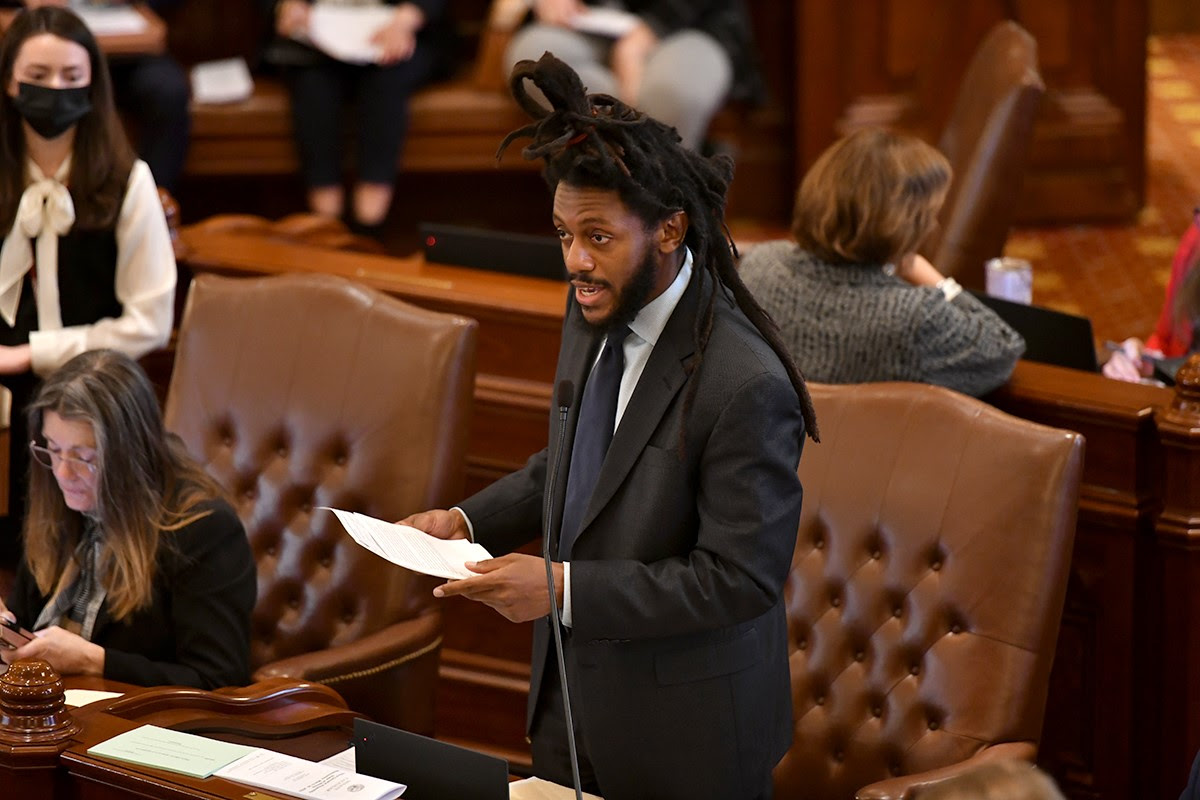 Caption: I was the chief-cosponsor of legislation that allows employees to take up to 40 hours of paid leave. This legislation passed the Senate on Tuesday, Jan. 10 and awaits the Governor's signature.
Senate Bill 208 creates the Paid Leave for Workers Act, which provides employees in Illinois with a minimum of 40 hours (or 5 days) of paid leave which can be used for any reason within a 12-month period. I was proud to be a chief-cosponsor of the legislation.
In my People's Legislative Council initiative, single moms from our district told me that they often struggle to get time away from work to attend their kid's parent teacher conferences, attend sporting events, or get a sick child to the doctor. Hearing those 7th District moms, I have committed to writing and fighting for legislation that will aid single parents in the balancing act of raising their children, showing up for work, and taking care of themselves as hardworking parents who are so often underappreciated. The Paid Leave for Workers Act will help them achieve that balance.
Senator Mike Simmons inaugurated to the Illinois Senate
Caption: Me with my partner Michael celebrating my swearing-in at the Old State Capitol!

On Wednesday, Jan. 11, I was sworn into the 103rd General Assembly. My inauguration marks the start of my second term in the Senate. I am a lifelong resident of the 7th Illinois Senate District, the first Black person to serve our northside district, the first openly gay member of the Illinois Senate, the first Ethiopian-American to serve in either chamber of the General Assembly, and the third openly gay, black state senator in the nation. In my first term, I secured passage of 16 pieces of legislation and helped shape dozens more including banning hair discrimination in Illinois schools, improving access to mental health for diverse youth, providing economic relief for struggling parents, requiring lead abatement in buildings, and expanding protections and healthcare for LGBTQ+ people in Illinois to name a few.
It's a towering honor to continue serving the people of the 7th District in the 103rd General Assembly. Our district is one of the most diverse in the nation with well over 100 languages spoken and ethnicities represented from every corner of the world. I look forward to centering the voices, lived experiences, and needs of these diverse communities and every single one of my constituents in our office during this term. In my first term we put the people of the 7th District at the center of all my legislative work — single moms, longtime residents, youth, LGBTQ+ people, returning citizens, immigrants and refugees, the disabled, survivors of gun violence, seniors, and so many others who have been unheard for too long.
In my new term I will continue introducing and passing far-reaching policies that make a difference for everyday people, delivering excellent and proactive constituent services, and making sure 7th District residents feel seen, heard, understood, and helped by my office. I will also continue to fight for legislation that provides affordable housing to those who need it, expands access to health care, expands the rights of our LGBTQ+ communities, improves our transportation systems, protects our diverse immigrant communities, protects reproductive rights, supports our schools, addresses gun violence, and so much more.
---
Community Updates
Cook County Property Tax Bill Due Date Extension: April 3
The due date for Cook County property owners tax has been extended by one month. The new due date for property tax bills is April 3, a one-month extension of the expected due date of March 1, the Office of the Cook County Treasurer announced Wednesday, Jan. 4. Payments must be made before 11:59 p.m. on April 3 to be recorded on time. To get a copy of your Cook County Property Tax Bill, you can look here.
---
Community Resources
State Representative Cassidy's New Office Location
Representative Kelly M. Cassidy is moving district office locations. Cassidy represents Illinois' 14th House District, which is part of the 7th Senate District.
Rep. Cassidy's office expects to be up and running in the new office, located at 1507 W. Morse Avenue, by Feb. 1. The new office will be shared with newly-elected 13th District County Commissioner Josina Morita. Until then, they will be operating virtually and hosting satellite service hours at 5533 N. Broadway each Wednesday from 9 a.m. - 5 p.m. Any changes will be posted on their social media and at repcassidy.com. You can also reach them directly at This email address is being protected from spambots. You need JavaScript enabled to view it.. If anyone is struggling to contact her new office, they may call my office and we will do all we can to help connect you to Representative Cassidy.
Chicago Methodist Senior Services Events
Chicago Methodist Senior Services is hosting a virtual event on Tuesday, Jan. 24 with Dr. William Rhodes where he will touch on the diagnosis, prognosis and stages of dementia, as well as expectations of patients, families and caregivers. Those interested can register here.
It is Cervical Cancer Awareness Month
Cervical cancer that's found early, before it has spread, is easier to treat successfully. Uninsured women may be eligible for free screenings and treatment through the Illinois Breast and Cervical Cancer Program. Learn more at https://bit.ly/3llgEc4.
National Blood Donor Month
January is Blood Donor Month, a time to celebrate the lifesaving impact of blood and platelet donors. It coincides with one of the most difficult times to maintain a sufficient blood supply for patients. If you're able, please consider making a lifesaving donation today: www.redcrossblood.org.
---
Upcoming Events
Argyle Lunar New Year Parade | Saturday, January 28
It is the year of the Rabbit! Come celebrate the Lunar New Year with me and our AAPI communities on Saturday, Jan. 28. The celebration will include a parade, which will kickoff at 1 p.m. on Argyle & Winthrop Ave.
For more details you can visit exploreuptown.org
Andersonville Fika Fest | February 3-5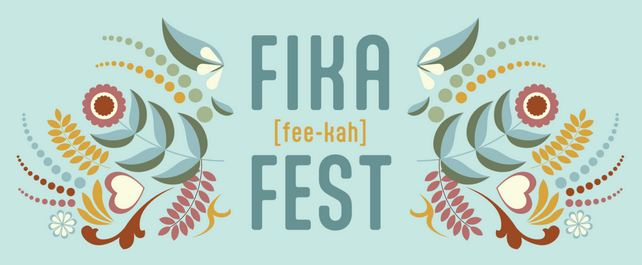 This year, Andersonville is celebrating the tradition of Swedish Fika! Although, Fika translates directly to "a coffee and cake break," it is about so much more. Fika is a moment, a state of mind, an action, and many Swedish folks consider it an essential part of the day. Participate by reserving a table at one of the restaurants participating in Chicago Restaurant Week that weekend, or set aside some time for friends to share in conversation, connection, and of course, coffee!
For more details you can visit andersonville.org/events/fika-fest/
Edgewater's Winter Bryn Mawrkets | Through February 23
At this pop-up style "mawrket," located at 1052 W. Bryn Mawr and 1040 W. Bryn Mawr, you'll find vendors, makers and artists inside two storefronts. There is a wide variety of small business owners selling everything from self-care products and apparel, to books and art.
Multiple artists are participating in the mawrket in a variety of different ways from popping up to sell their work, and even using storefront space as a studio.
The mawrket takes place on Fridays from 3-7 p.m. and Saturday and Sundays from 1-5 p.m. now through February 12, 2023.
For more details you can visit edgewater.org/events/winterbrynmawrkets/
Howard Street Makers Studio | Through February
The Howard Street Makers Studio is located at 1609 W. Howard Street, and provides a safe space for creativity and healing. Everyone is welcome to join during open studios where participants explore different types of art mediums. Artists in residence facilitate classes, community art workshops, spoken word/open mic, sip and paint, discussions and open art studio time with and for the community.
For more details you can visit howardstreetchicago.com/makersstudio
Category: Newsletters