Published: Tuesday, February 21, 2023 09:13 AM
General Updates from Senator Mike Simmons

Dear Neighbor,

The new legislative session is off to a quick start with new committee assignments, new bills, and lots of anticipation. Last week I was proud to introduce 29 pieces of legislation covering key areas such as ensuring access to health care, making our streets safer for cyclists and pedestrians, increasing affordable housing options and protections, building on human rights for our communities and bringing transparency into government contracting. I will keep you posted on key bills as they are reviewed in committees. As a reminder, you can look up any bills I've sponsored or cosponsored on the General Assembly's website here.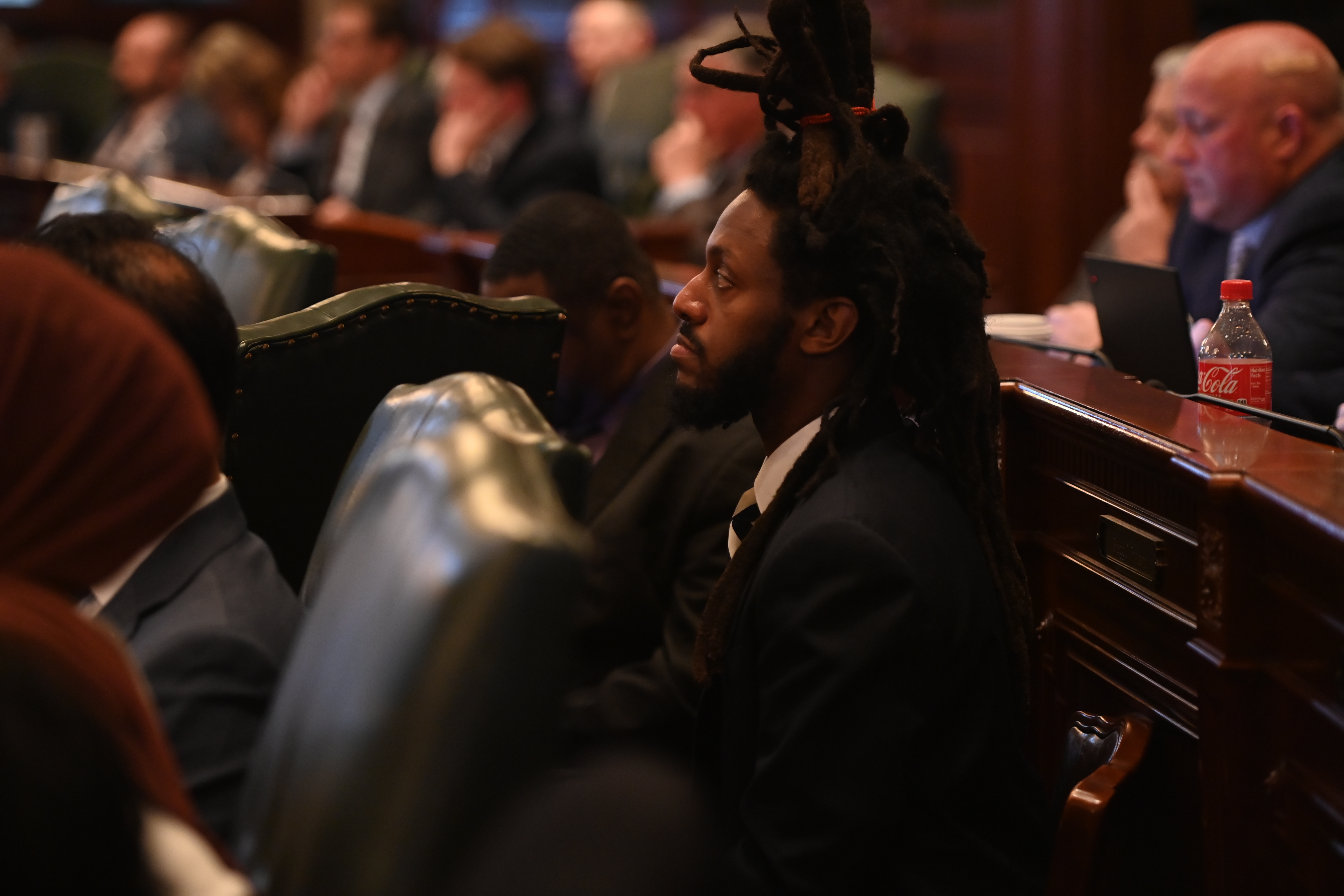 Caption: Senator Mike Simmons listens to the State of the State Budget Address.
Earlier this week I also sat in the House chamber with Rep. Hoan Huynh and Rep. Kelly Cassidy to listen to Governor Pritzker's State of State Address. The governor presented his recommended budget for Fiscal Year 2024. It was exciting and encouraging to hear about commitments to supporting early childhood education, bolstering human services including significant new investments towards building new permanent supportive housing and scattered-site housing for the unhoused, increasing rate payments for Medicaid, increasing funds for MAP grants so that lower-income students can afford college, and other investments in our communities' long-term growth. There is more work to be done. I am eagerly looking forward to further examining the budget proposal, asking pointed questions during budget hearings in the weeks and months ahead and crafting a final budget that continues to prioritize and invest in people while keeping our state on the right track.
Sincerely,
Mike Simmons


State Senator | 7th District

Simmons Reflects on Black History in the 7th District

I want to lift up the Black communities that make up the 7th District. As a native of our district, and as the first Black person ever elected to serve as senator from our far North Side district, I could not be prouder to celebrate Black History Month and to lift up our neighbors and constituents who are Black and have lived here a long time or who are new to our community. Our district is exceptional because of its rich diversity, and even within the Black community there is so much diversity. My own mother was Black American born to American parents who were born to American parents from very different regions of the United States, while my father immigrated from Ethiopia to the Edgewater area in the early 1980s as a political asylee.

Within communities such as West Ridge, Rogers Park, and Uptown to name a few, Black people are the children of those who embarked on the Great Migration and fled the Jim Crow South, like my maternal ancestors. Others came here from Caribbean countries like Trinidad and Tobago, Barbados, and Jamaica. Then there are many who hail from Latin America from countries such as Honduras and Panama, those from all over Europe, then of course those from West African nations such as Ghana, Nigeria, and Senegal, Central African neighbors from countries such as Congo and Cameroon, then like my dad, from East African nations such as Ethiopia, Eritrea, and Sudan.

I personally am keenly proud of the very local Black History we have right here in the 7th District. I encourage you to reflect on the contributions of Black communities across our northside district, and remember to visit Black owned restaurants and businesses in our district too! For history lovers, I recommend you visit the recently completed Winthrop Family Historical Garden in Uptown which is a public tribute to the local Black history of the Uptown neighborhood.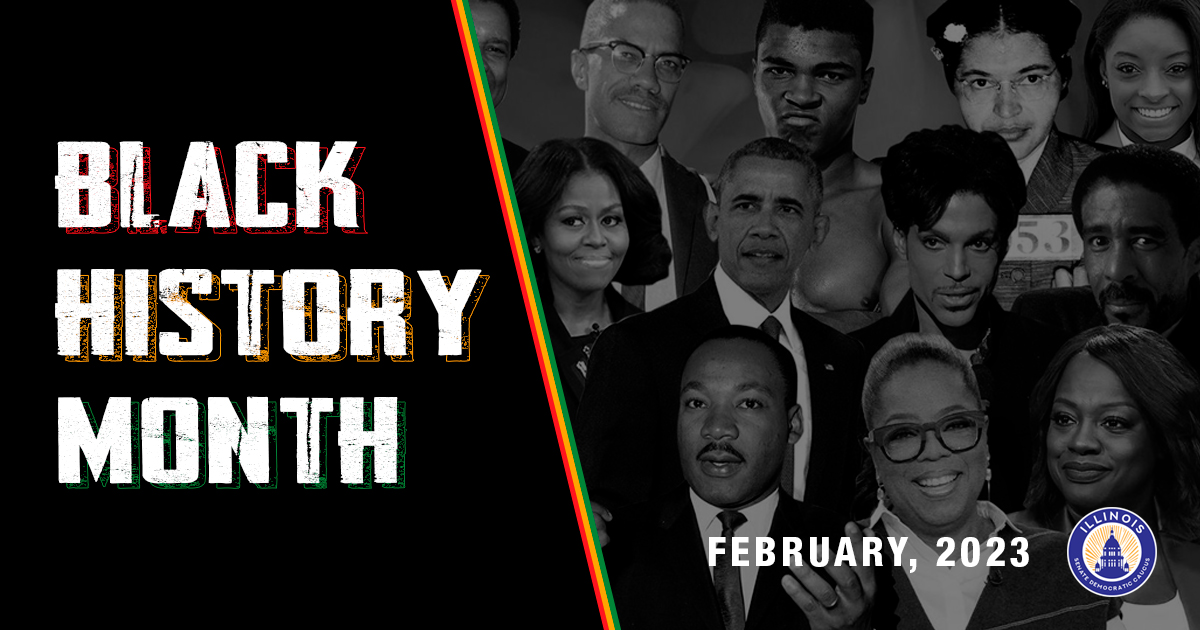 Legislative Updates

Simmons to chair Senate Human Rights Committee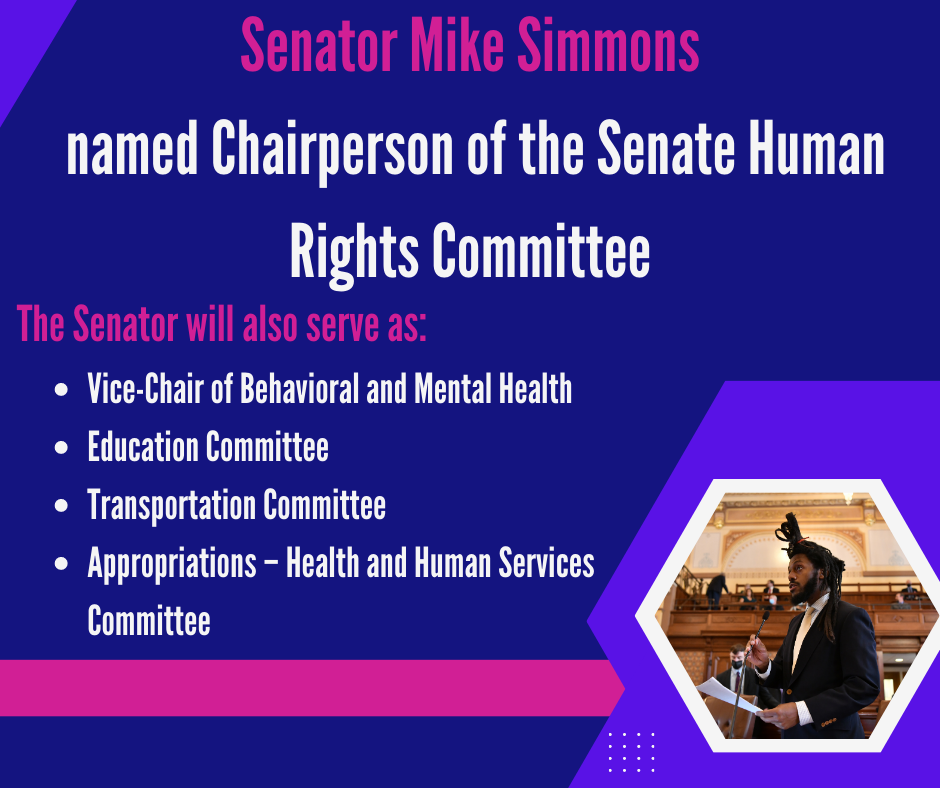 I am thrilled to announce that I will be the Chair of the Senate Human Rights Committee, Vice Chair of the Behavioral and Mental Health Committee, and serving on the Education Committee, Transportation Committee and the Appropriations – Health and Human Services Committee. These are excellent committees that will allow me to continue advocating fiercely for our district. I will focus on expanding access to mental health care and pointing out and removing systemic barriers to mental health, supporting strong public schools, making our streets and roadways safer for those on bikes and foot, improving and reinvesting in public transportation, shoring up protections and human rights for LGBTQ+ people, and fighting for funds for critical human services for our most vulnerable neighbors.
During my first term, I fiercely advocated for the rights of our LGBTQIA++ communities, youth, single moms, survivors of gun violence, seniors, immigrants, people with disabilities, people seeking reproductive care, and so many others who have been excluded from policy discussions for too long. I passed the Jett Hawkins Act, which prevents schools from prohibiting hairstyles historically associated with race or ethnicity. I passed SB3865, which struck the word "alien" from all Illinois state statutes, programs, etc., in reference to noncitizens and undocumented immigrants. These are human rights issues and I am honored to lead this committee and continue fighting to expand protections for all in Illinois as Chair of the Senate Human Rights Committee!

Black HIV/AIDS Awareness Day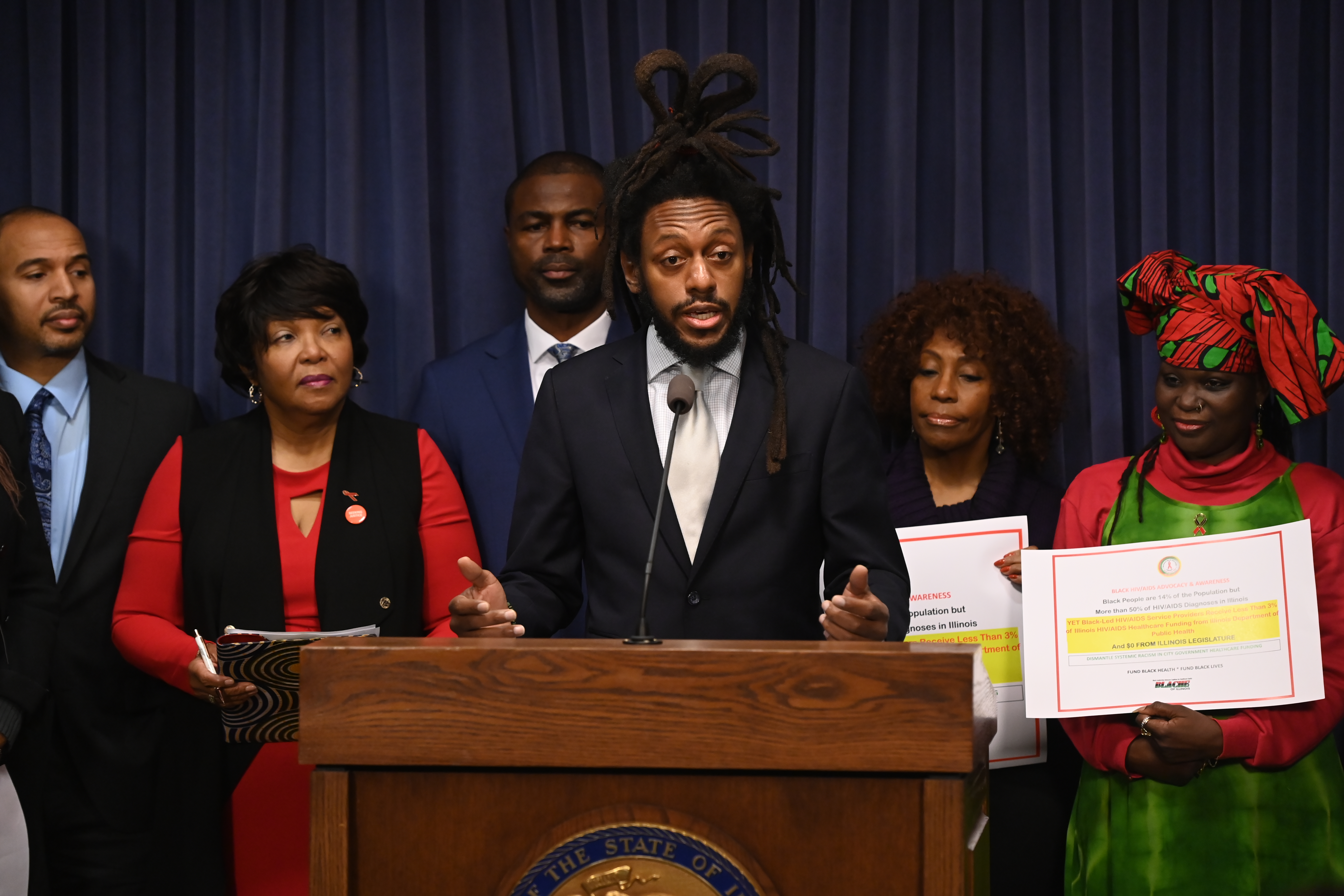 Caption: Senator Simmons presents the Black Leadership Advocacy Coalition for Healthcare Equity with a proclamation declaring February 7th as Black HIV/AIDS Advocacy Day.
I was so proud to stand with dedicated advocates for the Black HIV/AIDS community and present a proclamation declaring February 7th as Black HIV/AIDS Advocacy Day. We have a lot of work to do to bring new HIV diagnoses down to zero and to ensure robust and affordable health care for those living with HIV and AIDS. Uplifting those engaged in this work is vitally important.
February 7th is recognized as National Black HIV/AIDS Awareness Day by the Centers for Disease Control and Prevention and the National Health Institute. In 2017, an estimated 39,842 Illinoisans were living with HIV. In 2020, Black Illinoisans were 14.2% of the state's population but accounted for 52.1 % of new HIV diagnoses and 48% of existing diagnoses. We need a dramatic shift in resources to ensure community-based groups are fully participating in this critical work.
I issued the proclamation to the Black Leadership Advocacy Coalition for Healthcare Equity, a non-profit whose mission is to identify and dismantle systemically racist policies and funding processes in the healthcare system. For too long, our healthcare systems have failed to adequately support the health needs of the Black community. I will continue to fight for legislation that ensures all people have access to equitable, affordable, culturally-competent care.

Child Tax Credit Proposal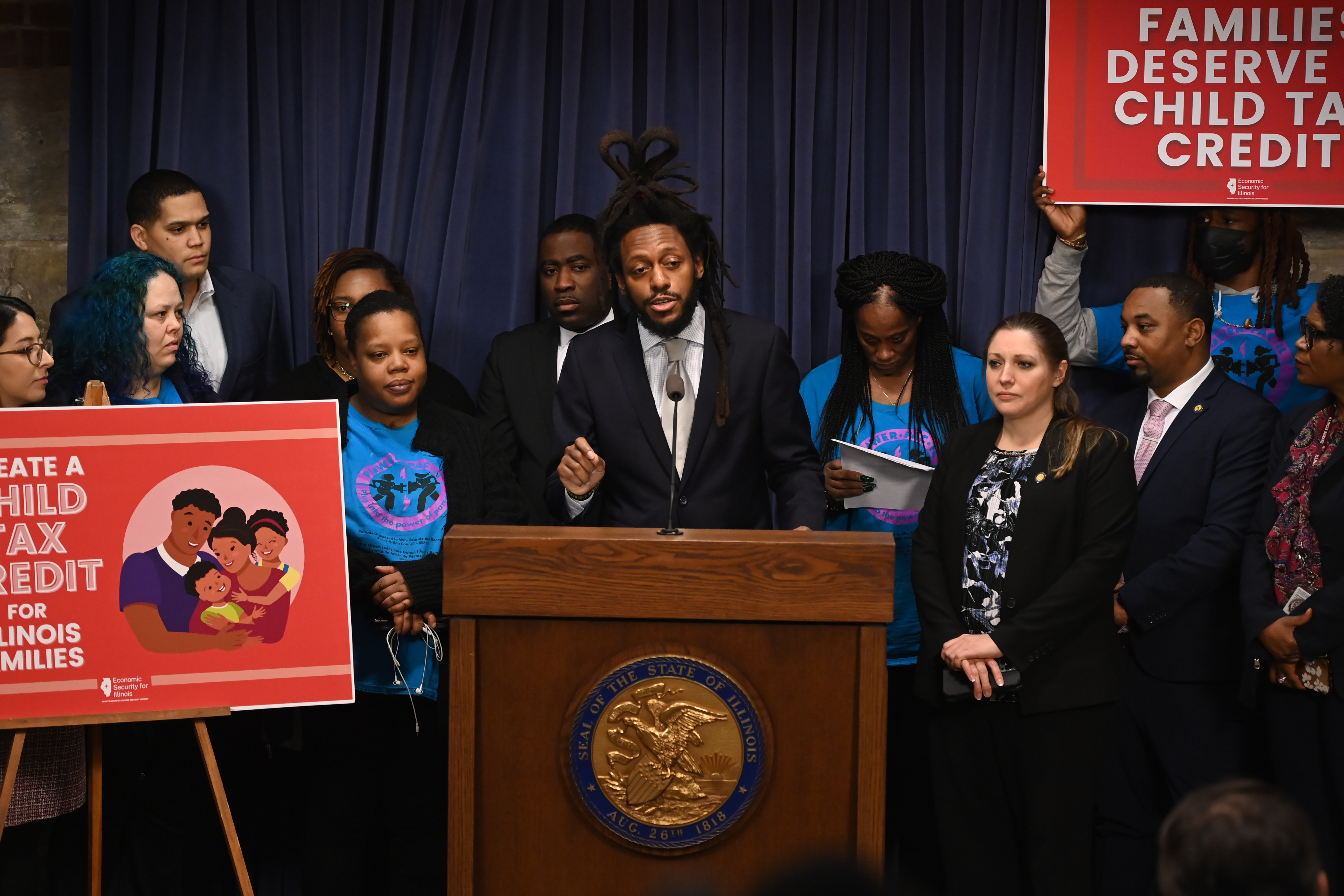 Caption: Senator Mike Simmons speaks during a press conference with Rep. Marcus Evans and several of his state colleagues, and the Economic Security Project on Tuesday, February 7 to announce a child tax credit bill.

Working parents are struggling more than ever before. It is time for the state to create a permanent Child Tax Credit that puts money back into the pockets of parents in Illinois, so they can take care of their children, and communities can begin to recover. I am so proud to stand with this broad and diverse coalition of organizations and parents to call for a permanent Child Tax Credit.
If passed, legislation I've introduced, Senate Bill 1444, would create an Illinois Child Tax Credit for eligible low and middle income Illinois families. Families would receive a $700 tax credit for each child under the age of 17. The policy proposed would benefit joint filers earning less than $75,000 and single filers earning less than $50,000. ITIN filers also would be eligible for the credit enabling undocumented parents and gaurdians to also be elibible for the Child Tax Credit.
We know that the expansion of the federal child tax credit during the pandemic lifted millions of children out of poverty. If we pass this state level Child Tax Credit, nearly half of all Illinois children would benefit from this economic relief for parents all across the state. Now is the time to create a Child Tax Credit for Illinois!

HB 1064 Signed into Law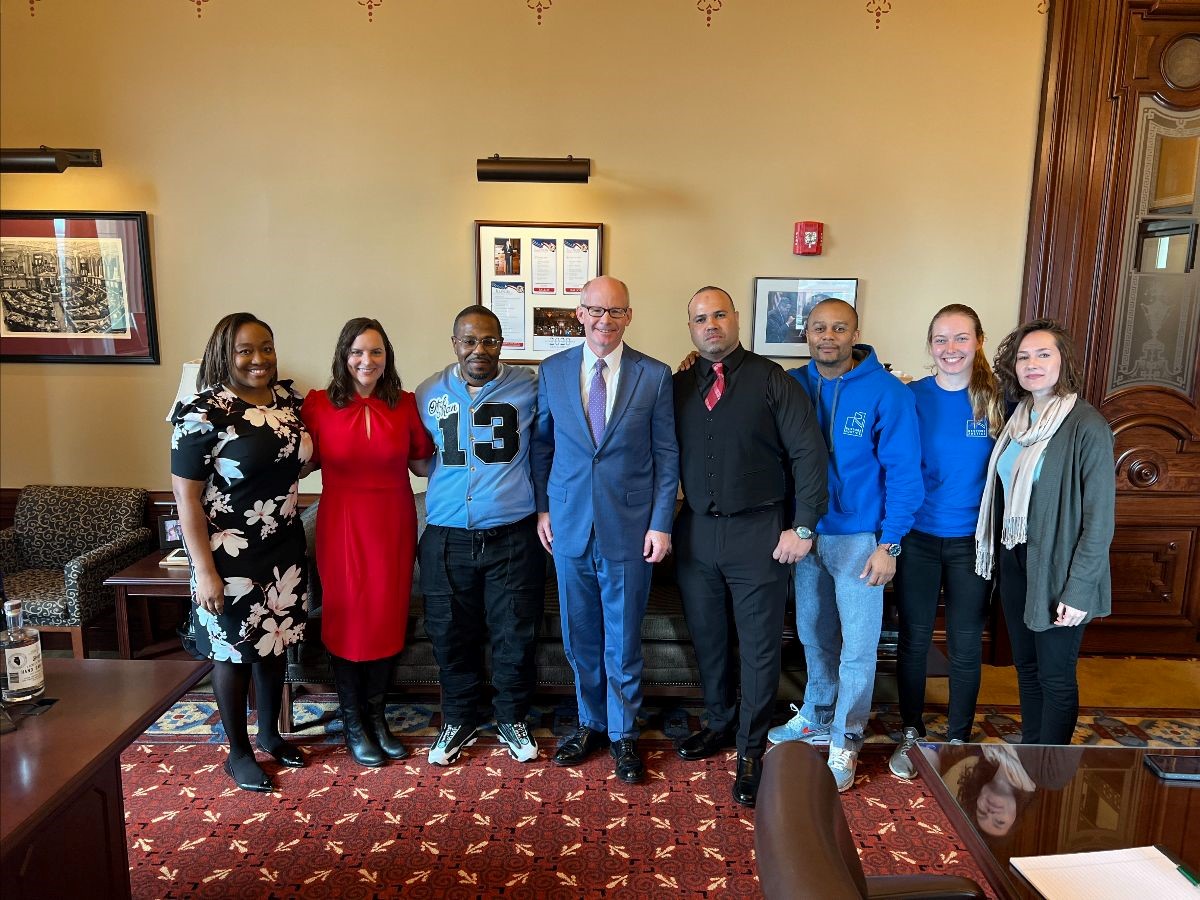 Caption: Senate President Don Harmon and advocates from Rogers Park-based Restore Justice mark the passing of HB 1064, a bill Senator Mike Simmons championed and cosponsored, which abolishes juvenile life without parole sentences.

On February 10, Governor Pritzker signed into law House Bill 1064, which makes Illinois the 26th state to abolish juvenile life without parole sentences. I was a proud cosponsor of this legislation, and I am so happy to see it becoming law. House Bill 1064 allows a person who was under the age of 21 at the time of sentencing, or serving a natural life imprisonment sentence, to be eligible for parole review by the Prisoner Review Board after serving 40 years or more of their sentence. It was an initiative of Rogers Park-based Restore Justice in an effort to expand the eligibility of juveniles for Youthful Offender Parole review. This bill recognizes that people can grow, and that the mistakes made in our youth do not need to haunt us for the rest of our lives. It is a true act of democracy to offer those incarcerated the chance to grow and change, instead of locking them up for life.


Senator Simmons Recent News Mentions
• "Evanston receives $1 million from Illinois government to replace lead pipes" by The Daily Northwestern
• "As CROWN Act goes into effect, Illinois boy celebrates his hair" by Chicago Tribune
• "In The Arena - Mike Simmons - The People's Politician" by CAN TV
• "Illinois Senate Democrats celebrate $13 Million for Illinois Works Pre-Apprenticeship Program Expansion" by IL Senate Dems
• "Lawmakers push for a child tax credit" by ABC20/WICS
• "Illinois lawmakers propose child tax credit for low- and middle-income families" by CBS Chicago 2
• "Lunar New Year at the Golden Diners Club" by News-Star
• "Push for state child tax credit begins, could face uphill battle: Low- and middle-income families would get $700 per child" by Capitol News Illinois
• "Americans in line for yearly $700 tax credit – see if income means you would qualify" by The U.S. Sun
• "Amid tidal wave of anti-trans legislation, Democratic states race to become refuges for gender-affirming care" by The Hill

Community Updates

Illinois Works Pre-Apprenticeship Program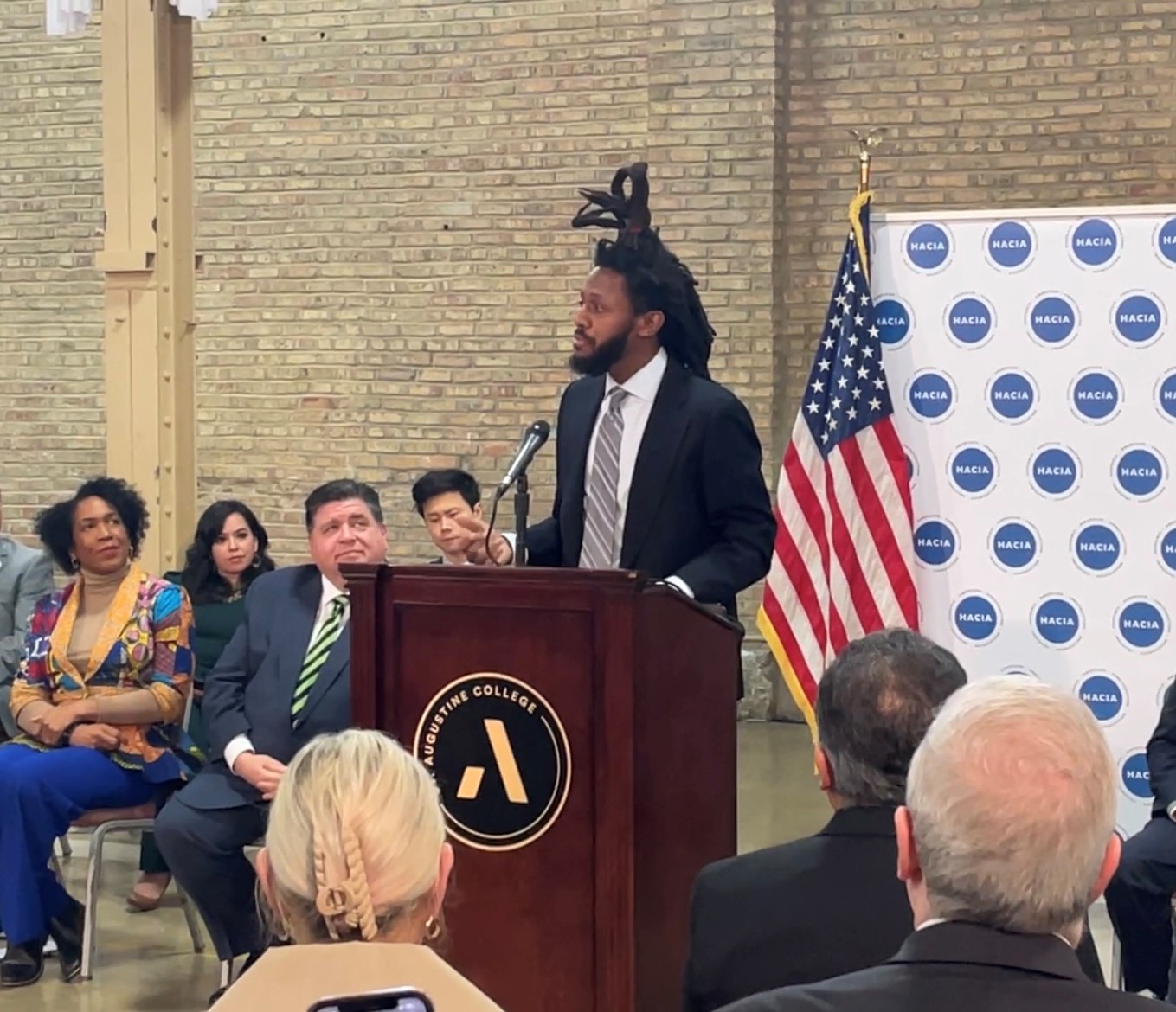 Caption: Senator Mike Simmons speaks at a press conference at St. Augustine College in Uptown with Gov. JB Pritzker and Lt. Gov. Juliana Stratton, lauding the importance and impact the Illinois Works Pre-Apprenticeship Program will provide for those who need jobs in the 7th District.

All too often, people within our communities have been historically isolated from skilled trades. For this reason, I was excited to join Governor Pritzker, Lt. Governor Stratton, Departement of Commerence and Economic Opportunity Director Kristin Richards, St. Augustine College President Dr. Reyes Gonzalez, Senator Cristina Pacione-Zayas, Representative Hoan Huynh, HACIA Director Jackie Gomez, and several more of my colleagues for the announcement of a $13 million expansion of our Illinois Works Pre-Apprenticeship Program.
The Illinois Works Pre-Apprentice Program is free and now will be available right here in the 7th district, through HACIA and St. Augustine College at 1333 W. Argyle in Uptown. It is available to all Illinois residents with an emphasis on women, people of color and veterans. This program can prepare you to successfully transition to a Department of Labor registered apprenticeship in the trades and other employment opportunities.
My staff and I are excited to share this opportunity with you! To learn more about the Illinois Works Pre-Apprenticeship Program, please click here. You can also fill out the interest form here. Feel free to call our office at 773-769-1717 if you are interested in applying for one of these apprenticeships!

Argyle Lunar New Year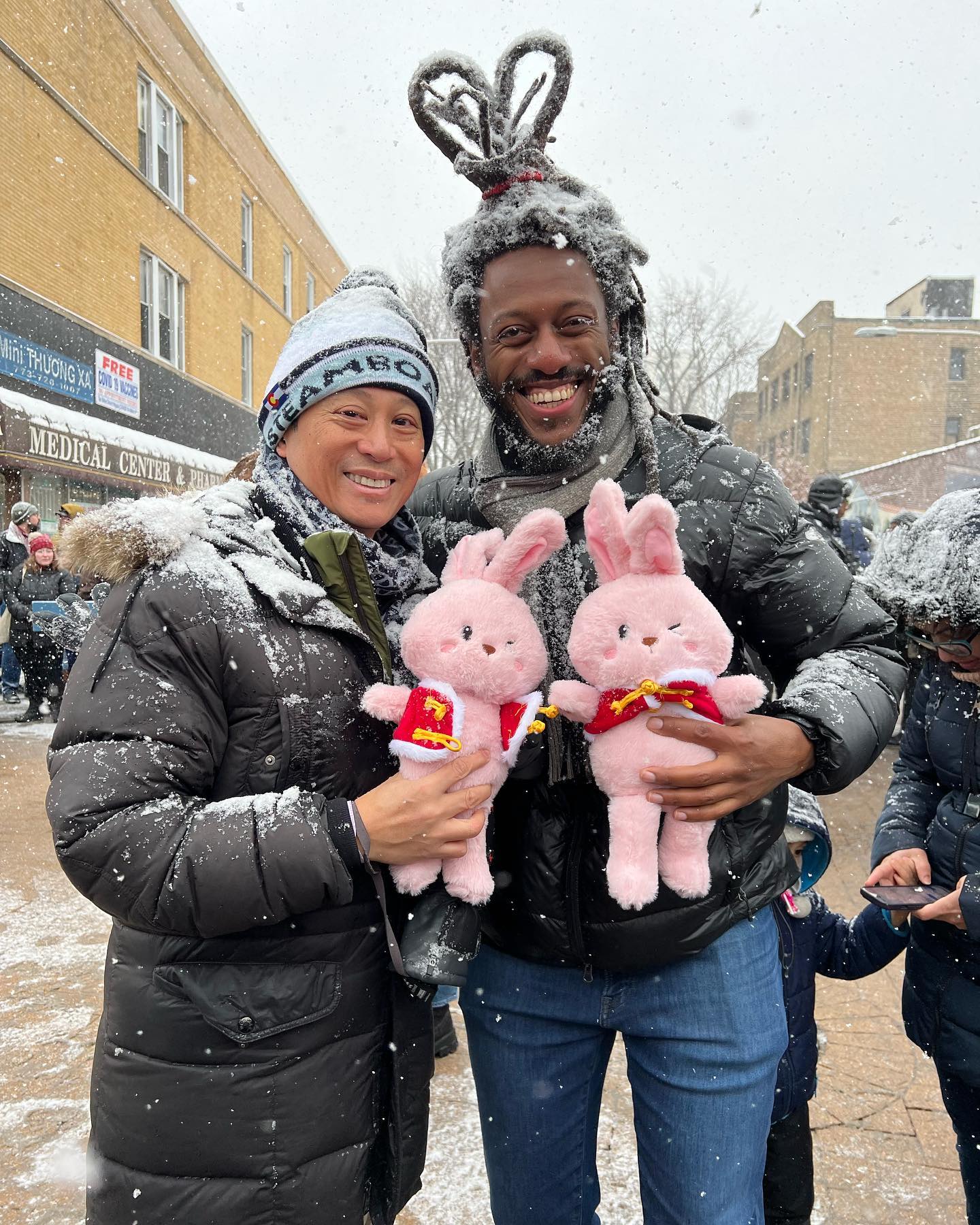 Caption: Executive Director of the Chinese Mutual Aid Association, Dennis Mondero, and Senator Mike Simmons march together in the Argyle Lunar New Year Parade.
This year's Argyle Lunar New Year parade was held on a beautiful snowy day, and brought so much collective joy, tradition, dance, and music to our amazing community. We celebrated both the Year of the Rabbit and the Year of the Cat. Thank you to everyone who worked so hard to plan this event, and to all our amazing AAPI organizations, performers, small businesses, friends, and neighbors for coming out and spreading joy for a prosperous new year. Keep lifting one another up!

South-East Asia Center Lunar New Year Senior Luncheon
On Friday, February 3, my team and I joined our AAPI senior community at the South East Asian Center to continue celebrating the Lunar New Year, pass out hot lunches, and even visit their early childhood classrooms. Thank you for your hospitality and service, SEAC! To learn more about their social services, translation services, and early childhood programs please visit here.
Youth Guidance Luncheon on Protecting Youth Mental Health
On January 30, I attended a luncheon hosted by the City Club of Chicago on the topic of "Protecting Youth Mental Health." It was an excellent opportunity to follow-up on December's youth mental health panel discussion, which I participated in with U.S. Surgeon General Dr. Vivek Murthy, the Chicago Department of Public Health, and Lurie Children's Hospital.
Doctors Nacole Milbrook and Inger Burnett-Zeigler, of Chicago's Youth Guidance, shared insights informed by decades of caring for children who have witnessed or experienced traumatic events. They also discussed the current state of our mental health workforce and culturally responsive investments needed to serve as many people as possible.
We as civic leaders, elected officials, educators, parents and community members are constantly looking for ways in our outreach to better connect with social service providers and youth mental health resources. I am dedicated to finding support for our unprecedented number of youth facing mental health challenges exacerbated by a pandemic-battered world, and accelerated economic, environmental, social, cultural, and technological transformations.


Community Resources
Township Officials of Illinois Scholarship

The TOI Scholarship program will award seven $2,000 scholarships to graduating high school seniors applying to colleges in Illinois. Find the application here!
Cook County Justice Advisory Council
The Justice Advisory Council and the Housing Authority of Cook County announced a new reentry initiative that will provide rental assistance and services for returning residents. Under this American Rescue Plan Act funded initiative, $8 million dollars will be available for organizations to provide qualifying wraparound services to individuals returning to their communities following a period of incarceration. To apply for funding, organizations that offer eligible services can respond to a Request for Qualifications which is open until March 7. For more information, visit cookcountyil.gov/JACGrants

Utility Assistance is Available through LIHEAP

Does your family qualify for energy bill assistance? Any family who earns up to two times the federal poverty level may be eligible for the Low Income Home Energy Assistance Program. Find out if you are eligible and apply by May 31 at helpillinoisfamilies.com or by calling 1-833-711-0374.
Home Accessibility Program

For seniors and people with disabilities, affording costly home modifications can be a barrier to living safely and independently. The Illinois Home Accessibility Program provides funding to assist income-eligible households with repairs to remain in their homes by improving accessibility and safety. Eligible households may receive up to $25,000 in assistance for the rehabilitation of their home. Assistance is provided as a five-year forgivable loan. Learn more and find a local agency where you can apply: https://www.ihda.org/my-community/revitalization-programs/

Homebuyer Assistance Available Now

Buying a home in the ever-increasing market can be daunting and stressful. Thanks to the Opening Doors Homebuyer Assistance Program, you could be eligible for $6,000 in assistance for a down payment and/or closing costs. The program is designed to aid lower-income people of color who have historically faced steeper barriers in their path toward homeownership. Learn more at www.ihdamortgage.org.

Federal Funds Available for Economic Development Research

Local governments, institutions of higher education, nonprofits, individuals and for-profit organizations working to implement economic development strategies can apply for the EDA Economic Development Research and National Technical Assistance Program. Grants under this program seek to promote cutting-edge research and best practices with practitioners in the economic development field and advance economic prosperity in distressed communities. Find more information at https://bit.ly/EconomicDevelopmentRNTA.
2023 DCFS Scholarship Program
The Department of Children and Family Services is currently accepting applications for the 2023 DCFS Scholarship Program for current and former youth in care. The scholarship package includes a full tuition and mandatory fee waiver to any community college, university, or college maintained by the State of Illinois, a monthly grant payment, start-up grant and a medical card. The last day that scholarship applications will be accepted is March 31, 2023. Scholarship awards will be announced on May 1, 2023. Please see the below three links for important information about the DCFS Scholarship Program including benefits, eligibility requirements and the application.
2023 DCFS Scholarship Program Memo to Applicants (1-25-23)
2023 DCFS Scholarship Program Information Transmittal (1-25-23)
CFS 438 Scholarship Application (Fillable)

Upcoming Events
Sign Up for the 24th District Vehicle Safety Day on February 18

The 24th CAPS District is partnering with the Cook County Sheriff's Office to host a Vehicle Safety Day on Saturday, February 18, from 9 a.m. to 12 p.m. Register your vehicle to have it marked to help prevent catalytic converter theft. Participants will also have the opportunity to learn about the Cook County Sheriff's Office and CPD's vehicle tracking program, apply for the Chicago Community Safety Coordination Center's vehicle GPS reimbursement program, and more. Registration is required to participate, no walk-ins will be accepted. To register and receive location information, contact the 24th District at This email address is being protected from spambots. You need JavaScript enabled to view it..

A'Ville Kids Activities Informational

The Andersonville Chamber of Commerce is excited to bring together businesses, organizations, and partners to host an A'ville Kids' Activities Informational this Monday, February 20th, where parents can learn about different after school programs, summer camp sign-ups, classes, and activities for kids in and around Andersonville. Highlights include: Demos by Senshi Karate of Chicago, StudioUs, and CirquesExperience. The event will take place from 6 - 8:30 p.m. at St. Gregory's Hall: A Home for Catholic Culture 1609 W. Gregory Street Chicago, IL 60640. Register here.

Walk for Women Overcoming Homelessness

Join me on Feb. 26th for a Winter Walk: A Mile in Her Shoes at the Uplift Community High School on 900 W. Wilson Ave, Chicago IL 60640 from 1-3p.m. This walk will be uplifting June, who has overcome homelessness and now serves on the Board of Directors at Sarah's Circle. June grew up on the south side of Chicago and took care of her aging parents for years. Unfortunately, due to a lack of documentation she inherited nothing when they passed away. June moved to Dallas, Texas in her fifties in search of a better life, but lost her job and was forced to move back to Chicago with nowhere to live and no safety net. She found shelter at Sarah's Circle and eventually moved into their apartments. June joined the Board of Directors in 2016 and has offered guidance to the organization ever since. We invite friends of Sarah's Circle to donate in June's honor so that more women like her have the support they need to end their homelessness. You can help by donating to June's Winter Walk page or sharing with your own circles! Donate or start fundraising for June at this link.

Loyola Park Advisory Council Black History Month Celebration on February 26

Did you know that Loyola Park has hosted a Black History Celebration for 24 years? Come celebrate and acknowledge the historic achievements of Black Americans and their undeniable impact on American history on Sunday, February 26 at the Loyola Park Fieldhouse at 1230 W Greenleaf, Chicago, IL. This is a free event. Please visit loyolapark.org/black-history-celebration for more information.


---
Thank you for taking the time to read my newsletter! If you ever want to reach out to our office, please call us at 773-769-1717 and we will respond promptly. We can also be reached at This email address is being protected from spambots. You need JavaScript enabled to view it..
Category: Newsletters