Published: Monday, March 13, 2023 09:48 AM
General Updates from Senator Mike Simmons
Dear Neighbor,
Spring is right around the corner and things are ramping up both in the 7th District and Springfield. Of my 29 bills filed this legislative session, 7 were heard and passed out of committee this week. These bills, ranging from supporting schools and students with mental healthcare access, to requiring air-conditioning in state-financed affordable housing, to supporting returning citizens, and a package of transportation bills focusing on bike and pedestrian safety, disability justice, and sustainability, are a direct result of the advocacy and voices of 7th district constituents. I am excited to move more people-inspired bills through committees in the next few weeks on the topics of prohibiting book banning in Illinois, child tax credits, Medicaid expansion, eliminating hospital billing for low income patients, compensating our neighbors whose SNAP benefits have been stolen, and procurement transparency for major municipal contracts.
While not in Springfield, I have had so many opportunities to visit stakeholders in the district and beyond. I visited the Erie Foster Avenue Health Center, attended a walk in support of Sarah's Circle, toured Lurie Children's Hospital Cardiac Care wing, and visited Uptown's Institute of Cultural Affairs. I was reminded of how incredibly dedicated our community is to serving one another, finding creative solutions to big problems like equitable healthcare, staffing challenges, language access, and sustainable and cooperative living.
I want to take a moment to point out one very important update: Medicaid redeterminations are no longer on hold! If you are a current recipient of Medicaid, you must make sure your mailing address is up-to-date in their system, or you could be in danger of losing your coverage. Click here to make sure your information is correct or update your address. If you need help, please reach out to my district staff at 773-769-1717. They are more than happy to help you with this process.
As we "spring forward" this weekend, I am looking forward to the warm weather season and all it brings - biking across our district, block club parties, youth events, farmer's markets, and so much more. Most of all, I look forward to seeing you all in the neighborhood and continuing to bring local government to you in a tangible, helpful way.
Sincerely,
Mike Simmons

State Senator | 7th District
---
Legislative Updates
Simmons Fights for Improvements to Affordable Housing After Residents' Deaths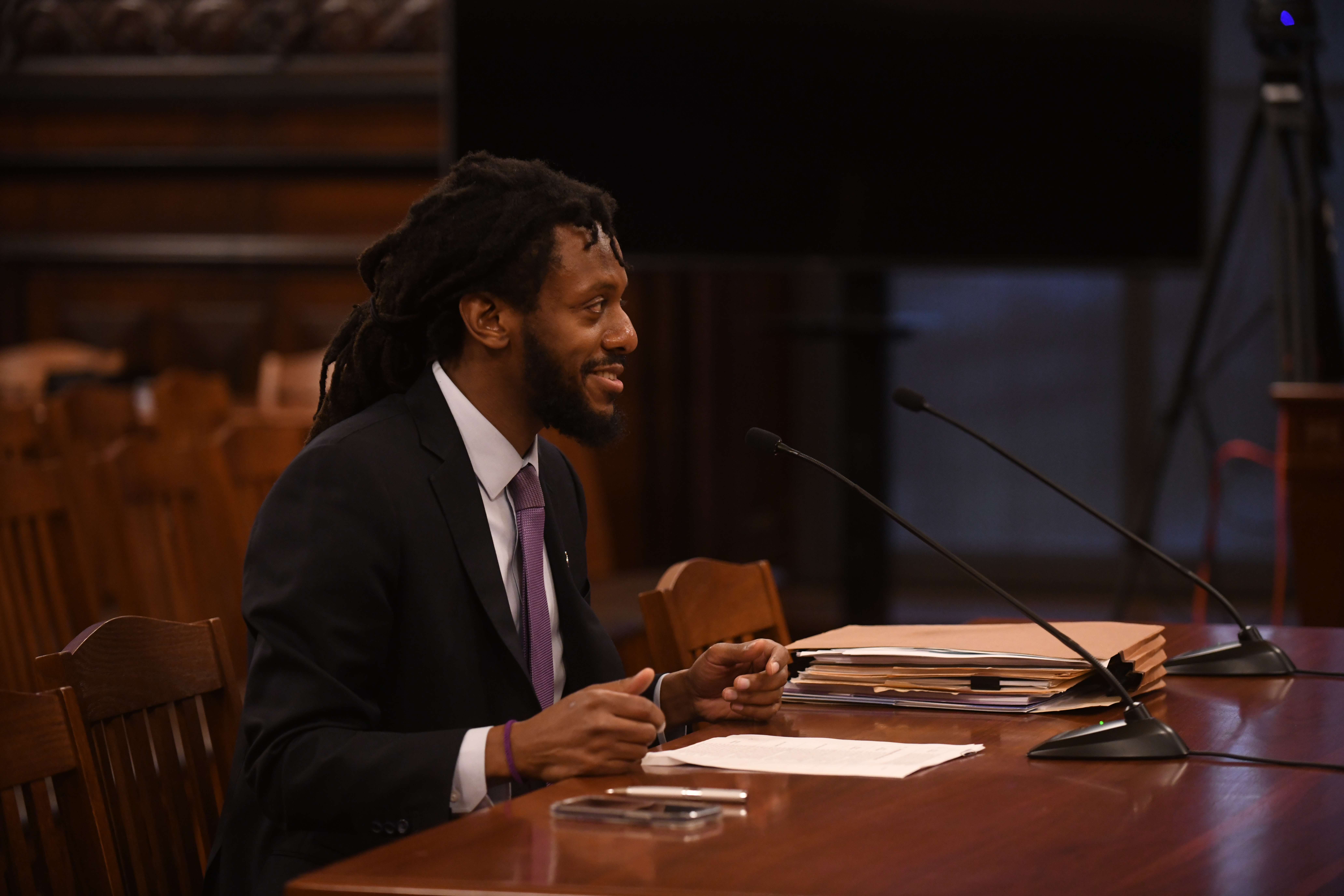 Caption: Senator Mike Simmons presented Senate Bill 2013 to the Senate Judiciary Committee Tuesday, March 7.
To improve the quality of life for residents residing in state-funded affordable housing I passed Senate Bill 2013 out of the Judiciary committee this past Tuesday. This bill is directed at State-Funded affordable housing facilities, requiring them to provide safe and responsive air conditioning and heating for residents, working laundry machines and other basic maintenance provisions. This bill is in direct response to three residents of a Rogers Park senior living complex who died of excessive heat exposure last May.
Senate Bill 2013 requires any residential building that is financed under the Illinois Affordable Housing Program to meet minimum standard of living conditions to continue receiving funding from the program. SB 2013 passed out of the Senate Judiciary Committee on Tuesday and now heads to the Senate floor.
Mental Health Care Bill Passed Committee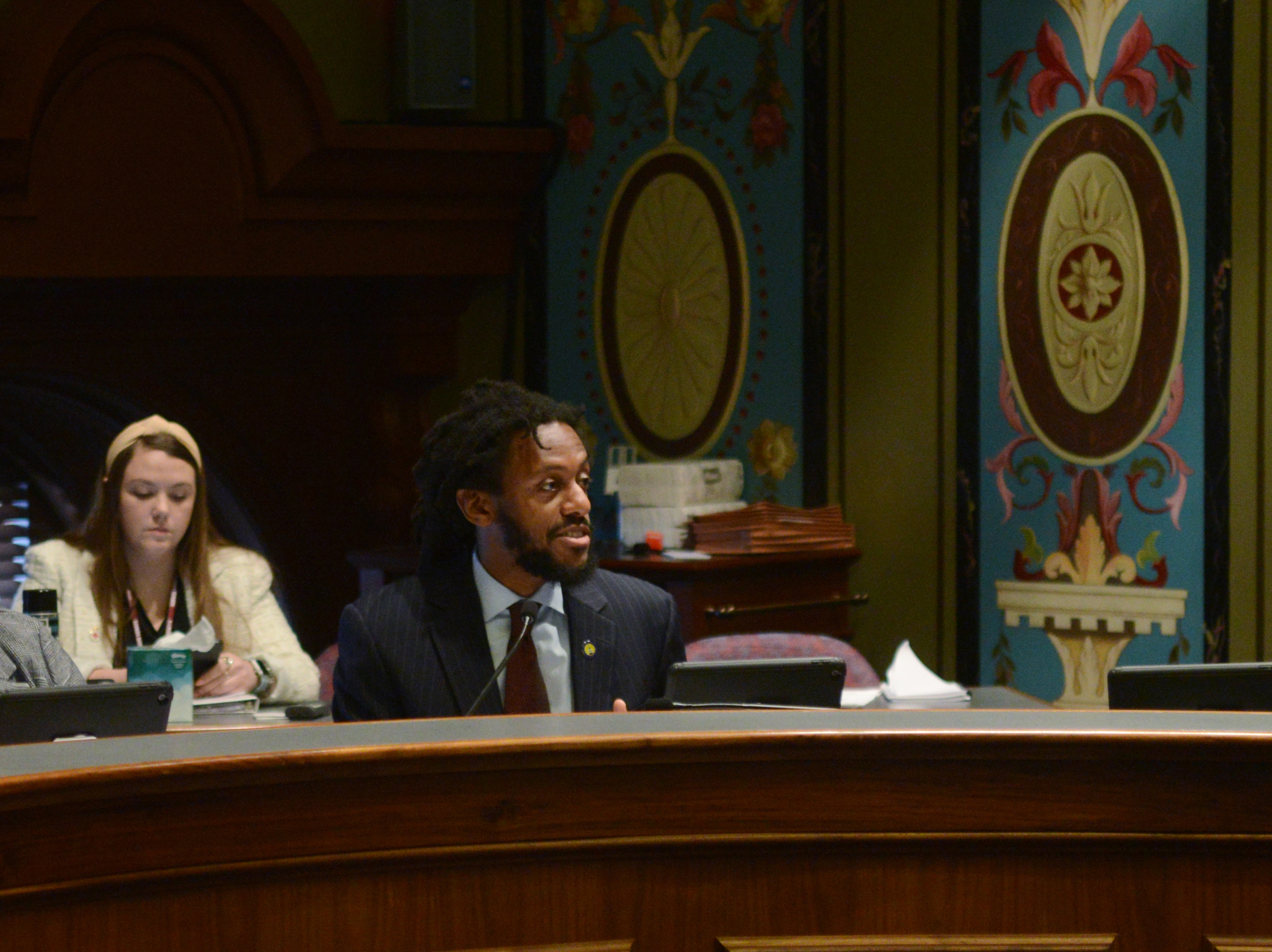 Caption: Senator Mike Simmons presented Senate Bill 1709 to the Senate Behavioral and Mental Health Committee Wednesday, March 8.
This past Wednesday, I presented a bill that would increase the availability and accessibility of mental health resources for students to the Senate Behavioral and Mental Health Committee, of which I am Vice-Chair. Senate Bill 1709 would require the Illinois Department of Human Services and the State Board of Education to provide technical assistance for mental health care during school days to help increase the access students have to mental health care.
There are critical gaps in the mental health support systems that we offer our youth. This bill will help identify and fill in systemic gaps. This is critical in addressing underlying trauma, toxic stress, and the isolation so many youth are enduring right now. SB 1709 passed out of the committee on Wednesday and now heads to the Senate floor.
Transportation Bills Passed Committee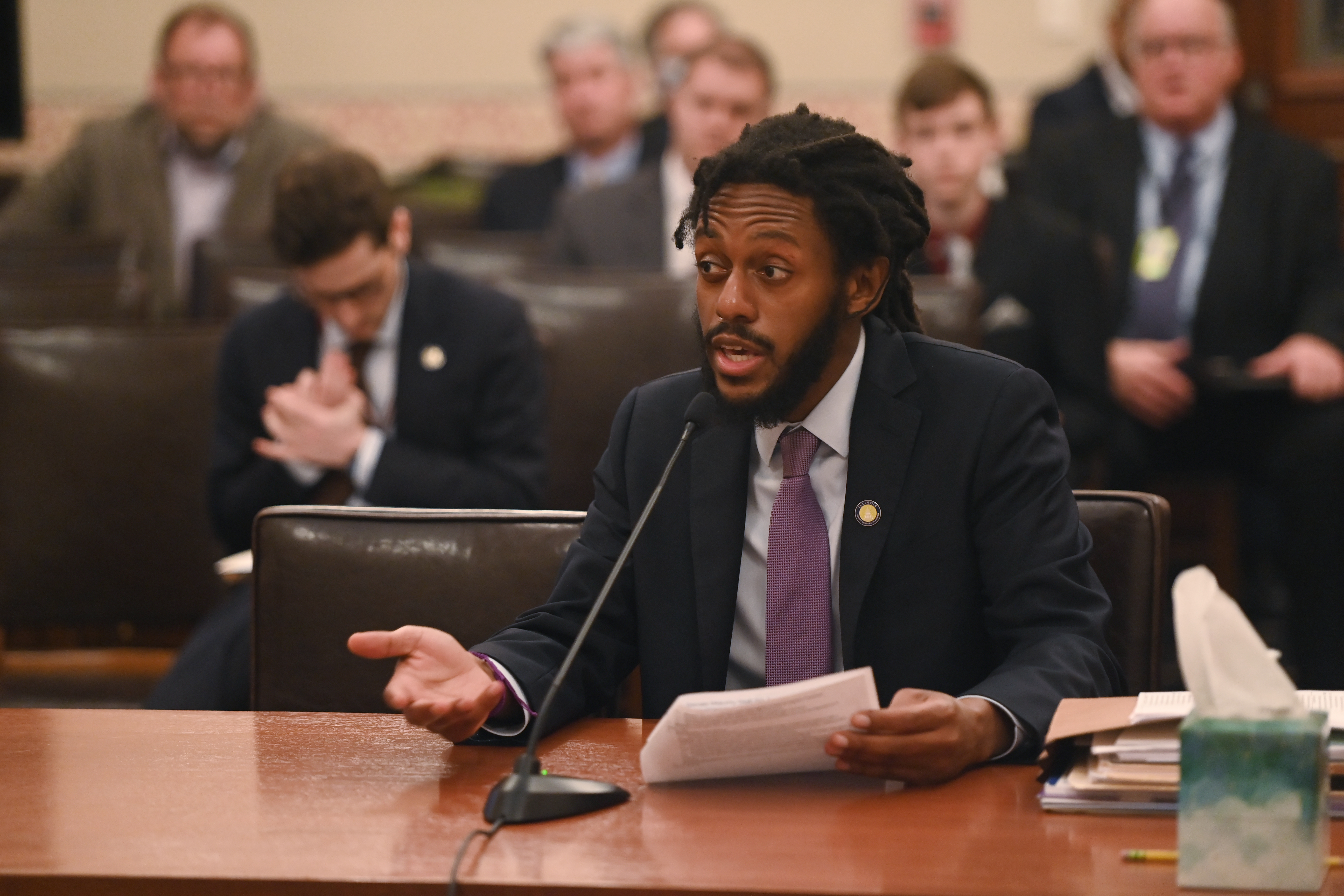 Caption: Senator Mike Simmons presenting his bike and pedestrian safety, roadway safety, and disability justice bills to the Senate Transportation Committee on Tuesday, March 7.
This past Tuesday I presented a package of bills to the Senate Transportation Committee. These bills address bike and pedestrian safety, auto-renewal for CTA disability benefits and increasing roadway design safety.
Senate Bill 1892 provides that CTA, PACE and Metra benefits for people with disabilities will automatically renew. Senate Bill 2278 permits local authorities to impose limitations on the weight, height or length of trucks on the highways under their jurisdiction. Senate Bill 2014 expands safety for cyclists and pedestrians by providing that improvements, such as high-visibility signage, crosswalk upgrades, curb bump outs, and barrier-protected bike lanes and bus shelters are made during routine maintenance to any non-highway state roadways. Senate Bill 1710 expands the responsibility of any entity that owns a bike trail, requiring them to erect permanent signs along the path warning pedestrians and cyclists of a vehicle crossing at least 250 feet before the crossing.
All four of these bills passed out of committee and I am excited for the new safety measures they will surely bring to our district and across the state of Illinois.
Simmons Pushes for Legislation to Support Returning Citizens
Caption: Senator Mike Simmons presenting Senate Bill 2175 on March 9 to the Senate Special Committee on Criminal Law and Public Safety, a bill which will aid returning citizens.
To help returning citizens successfully reintegrate into the community and reduce recidivism, I presented legislation to the Senate Special Committee on Criminal Law and Public Safety on Thursday. Senate Bill 2175 provides a returning citizen with the opportunity and time to establish stability in their life and take care of basic human needs, such as finding gainful employment, housing, and healthcare before owing fines and fees from prior criminal proceedings. This bill will address a cruel and unproductive cycle where returning citizens are expected to start over, but already have the cards stacked against them. Successful rehabilitation means giving returning citizens practical support as they reintegrate into the community. This bill does not erase fees, but rather provides a reasonable amount of time so they can get back on their feet.
You can read more about Senate Bill 2175 here.
Simmons Pushes for Cooperative Housing Development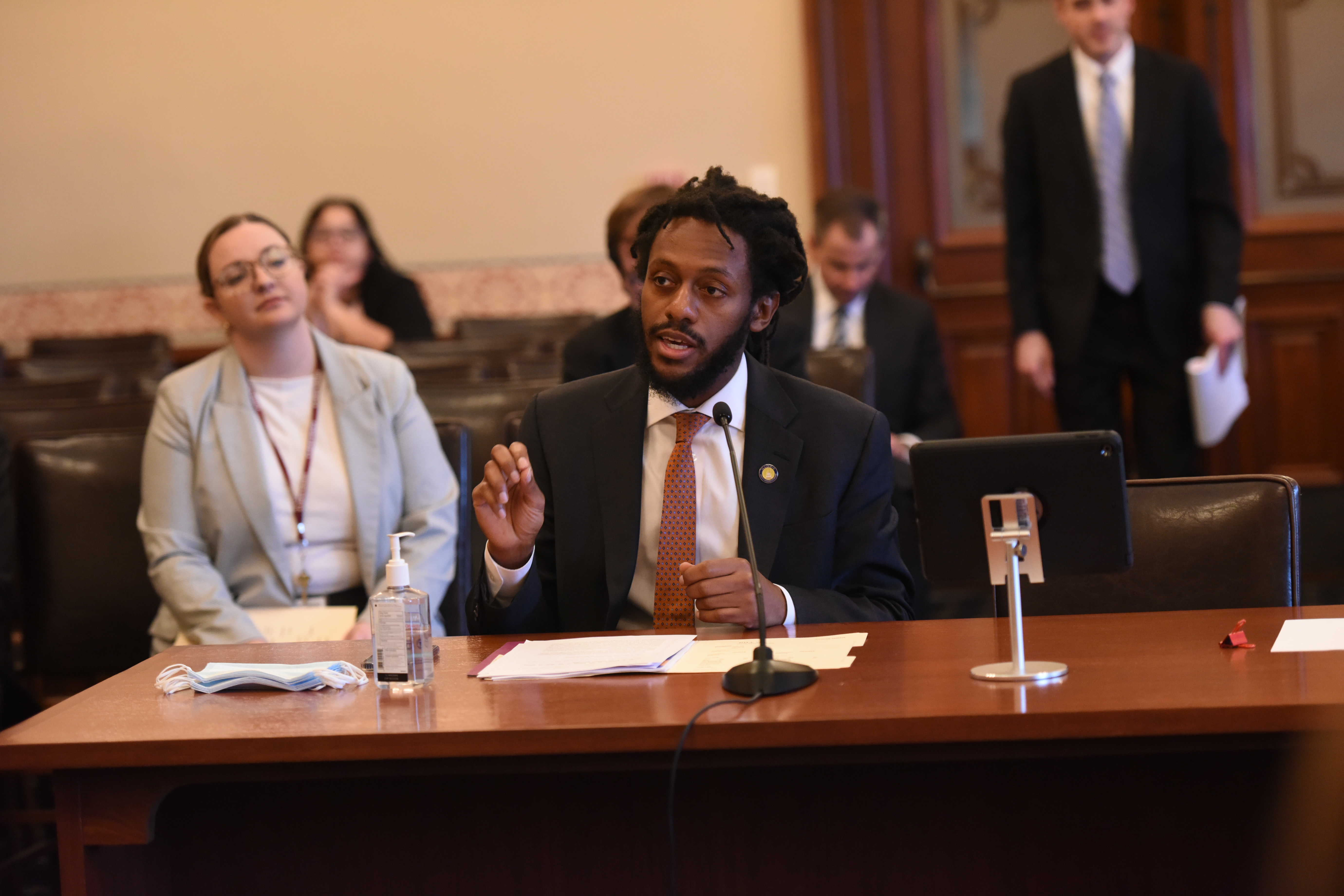 Caption: Senator Mike Simmons presents Senate Bill 1484 in front of the Senate State Government Committee.
On February 22, I presented Senate Bill 1484, which encourages cooperative housing developments to the Senate State Government Committee. Specifically, SB1484 creates the Cooperative Housing Fund, which would be used by the Illinois Housing Development Authority to award up to $5,000,000 in grants to organizations developing cooperative housing for residents with an income less than or equal to the median income within the municipality.
Too many communities across Illinois are experiencing a severe shortage of affordable housing. Cooperative housing provides one piece of the overall supply needed for those who are lower-income and aspire to live in cooperatively owned buildings.
SB1484 supports cooperative housing, a form of housing where residents are shareholders and cooperatively own and manage the residential building. In the 7th district we are fortunate to have many cooperative housing buildings which provide a real opportunity for long-time and diverse residents to call our communities home.
Cooperative housing also provides a viable alternative to homeownership for low to middle-income earners who may not be able to buy a home, while adding a key affordable housing option for those who need it.
To read more about my bill, please visit here.
Simmons Speaks on Proposed Budget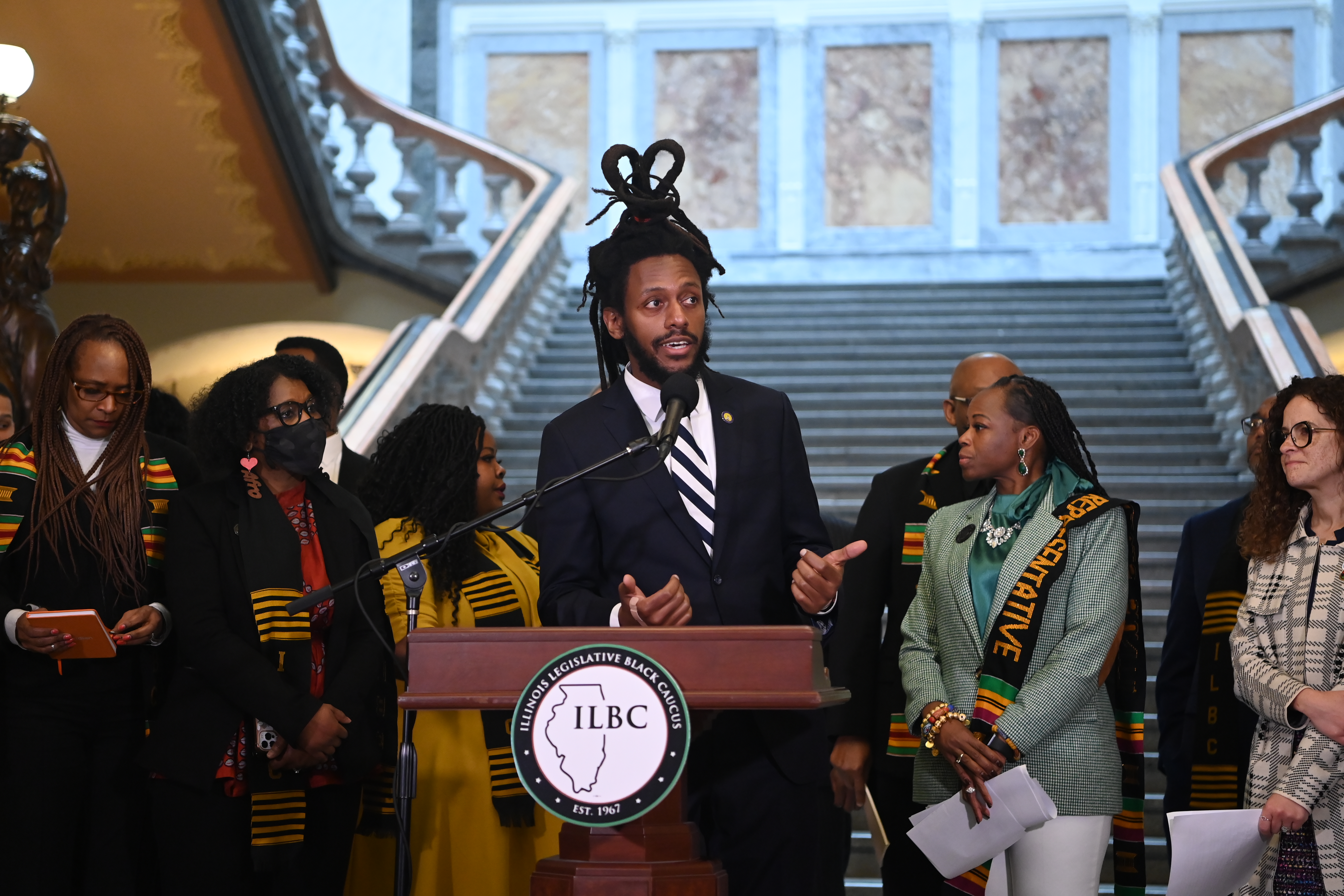 Caption: Senator Mike Simmons speaks at a Black Caucus Press Conference in response to Governor Pritzker's proposed budget.
In mid-February, Governor Pritzker gave the State of the State Address during a joint session of the state legislature in the Capitol's House chamber, where he laid out his recommended budget for Fiscal Year 2024. I was very pleased to see that the budget proposal recommends funding increases to address homelessness for the construction of new permanent supportive and scattered-site housing, expanded access to healthcare, early childhood, higher education, and other investments. Budget hearings are beginning now. As a newly seated member of the Senate Appropriations Committee for Health and Human Services, I listened to budget recommendations and requests for several state agencies including departments serving those living with developmental disabilities and the hearing-impaired. I asked pointed questions around language access and service capacity, and will continue to examine each department's budget requests and ensure we are meeting the needs of communities in our district and across the state.
---
Senator Simmons In the News
"Senators Pacione-Zayas, Simmons raise awareness for tipped workers" by the IL Senate Dems
"Amid tidal wave of anti-trans legislation, Democratic states race to become refuges for gender-affirming care," by The Hill
"Illinois Child Tax Credit Could Be Coming Soon — Here's Who Would Qualify," by Fatherly
"Lawmakers Push For $700 Illinois Child Tax Credit," by ValueWalk
"State Lawmakers push to create State Child Tax Credit" Video by Fox 32, watch Here
"Funding Secured for Hispanic American Construction Association," by Lawndale News
---
Community Updates
Simmons visits Erie Family Health Center Foster Avenue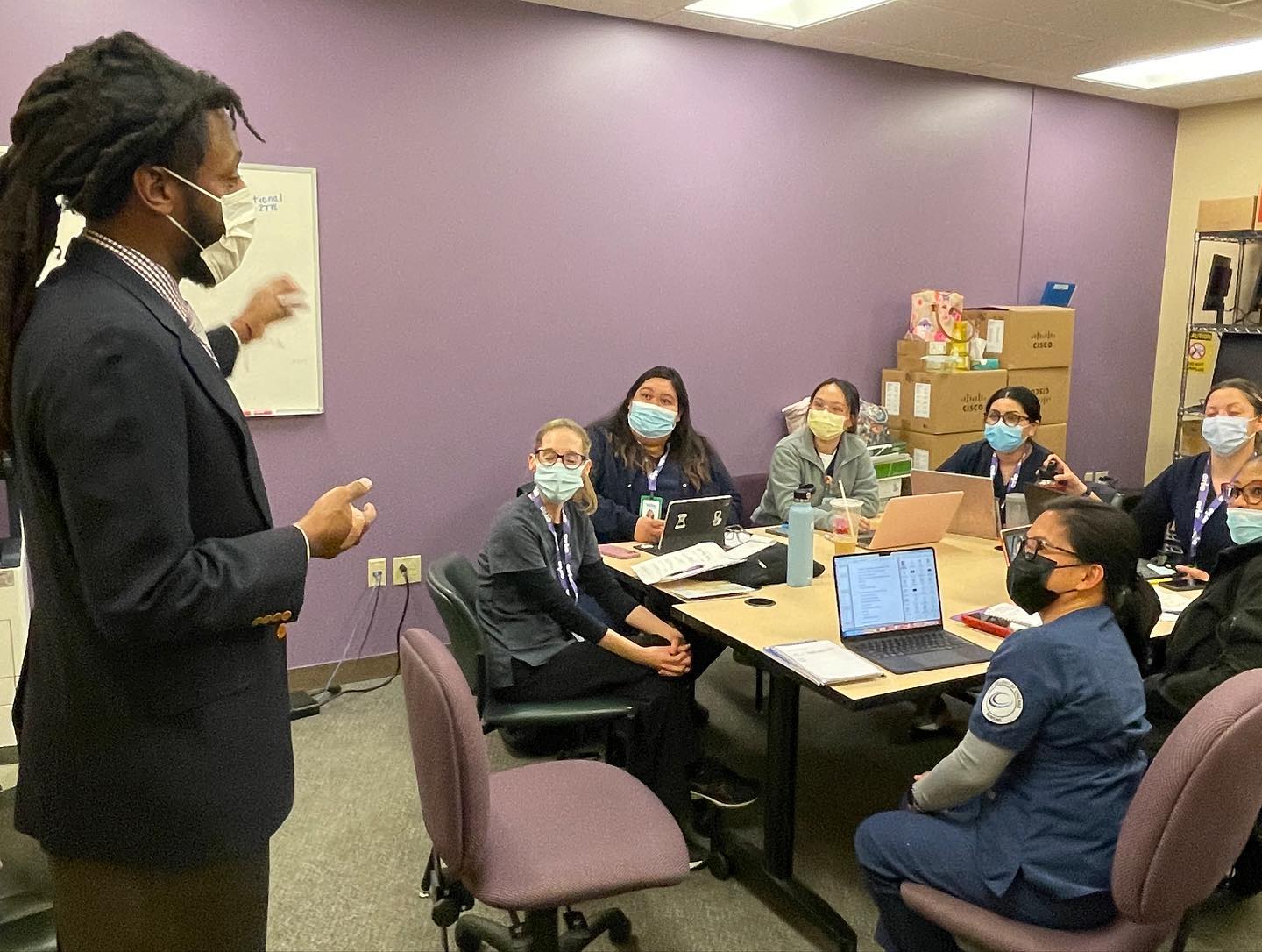 Caption: Senator Mike Simmons talking with a group of nurses at the Erie Family Health Center.
Erie Family Health Center is located at 5215 N. California on the 7th floor, and provides comprehensive healthcare, including dental, medical, and mental health services to nearly 5,000, 7th district constituents. Visiting their Lincoln Square facility and talking with their staff and providers allowed me to learn that 1 in 4 Erie patients are without insurance, on Medicaid, or simply do not have access to a health support system and need care. If you or someone you know needs care, please contact them at 312-666-3494. You should also feel free to contact my district office at 773-769-1717 to ask for help in finding a health care clinic or hospital where you can establish regular primary care. We are here to help you and our communities stay well.
Sarah's Circle 31st Annual Winter Walk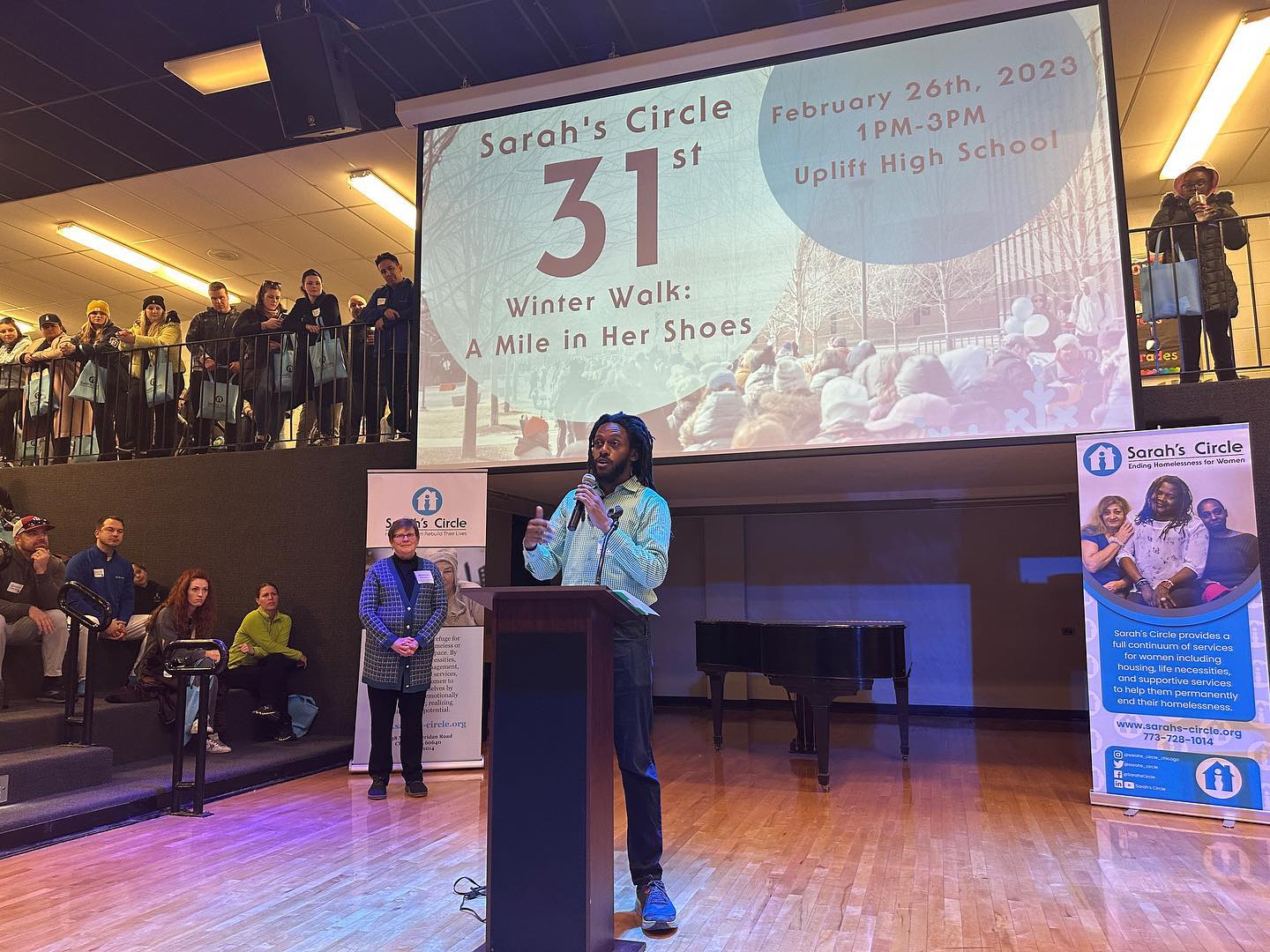 Caption: Senator Mike Simmons gave a speech at the Sarah's Circle 31st Annual Winter Walk event.
On Sunday, February 26, I was so proud to join Sarah's Circle 31st Annual Winter Walk and speak at the community program at Uplift High School. I shared how important it is to help our unhoused neighbors, many of whom are women, access permanent supportive housing. Sarah's Circle is an inspiration and a success, and a model that works well for our constituents in this District. I will continue to support them and to fight for new permanent housing solutions at the state level.
Lurie Children's Hospital Tour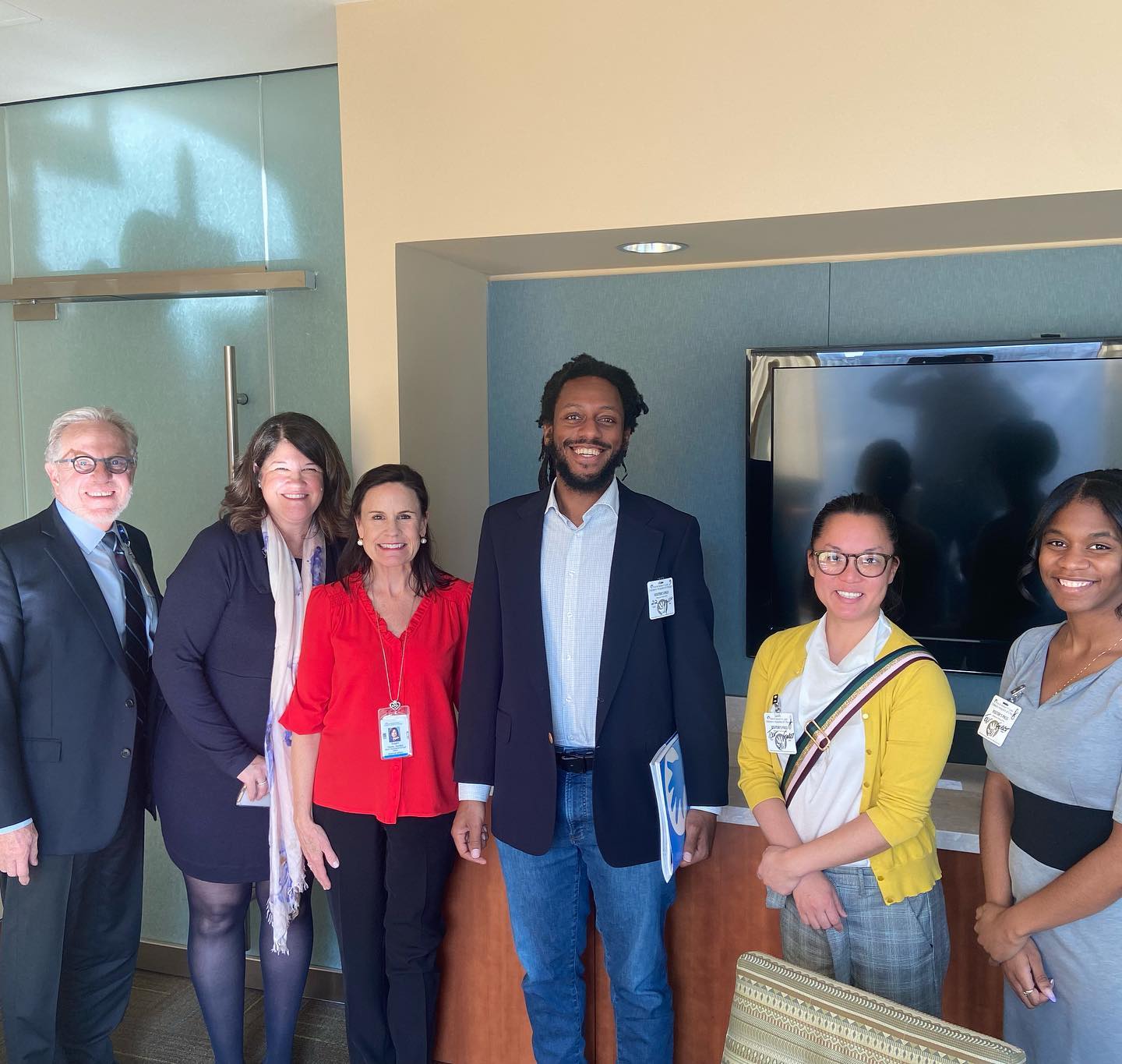 Caption: Senator Simmons, Heather Saenger - Chief of Staff, Shenicka Hohenkirk - Director of Outreach and Constituent Services, Dr. John Walkup, MD, Susan Hayes Gordon, Senior Vice President/Chief External Affairs Officer and Jill Fraggos - Vice President, Government Relations.
Last week I visited Lurie's Children's Hospital. Since their move downtown nearly a decade ago, they have grown in capacity to serve and care for children all across the country. Jennifer Frey, Director of the Cardiac Care Unit showed me and my staff the incredible amount of staffing flexibility and advanced medical resources required to provide the highest level of care. We also had the opportunity to meet with and discuss mental and behavioral health services, challenges, and solutions with Dr. John Walkup, MD, who serves as Chair of the Pritzker Department of Psychiatry and Behavioral Health.
Institute of Cultural Affairs Visit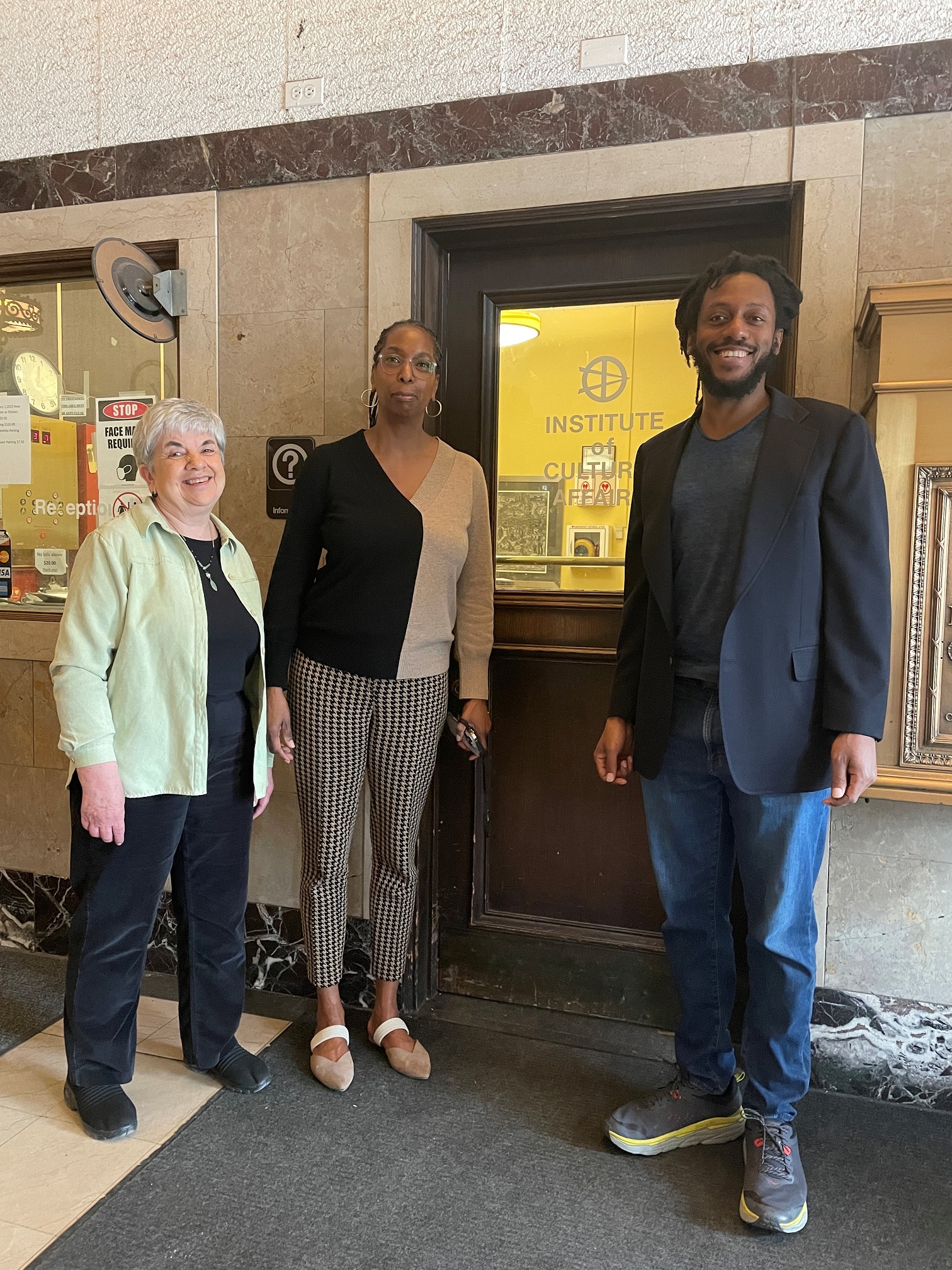 Caption: Senator Mike Simmons touring the Institute of Cultural Affairs with Karen Snyder-ICA Program Director and Lesley Showers-ICA Executive Director on Thursday, March 2.
The Institute of Cultural Affairs, located in Uptown at 4750 N Sheridan, holds special significance to me which is why visiting and touring the building was so special. My mom took me here every Saturday morning for Amharic lessons when I was 5 years old! Today, the ICA continues to bring cultural spaces, sustainable cooperative living, and programming to our district. Executive Director, Lesley Showers, and ICA Program Director Karen Snyder provided a tour of this historic building for me and my staff, where we discussed anticipated renovations, a rich array of cultural programming offered at this Uptown-based facility, and toured existing on-site affordable housing space for single moms, immigrant families, and other community members.
Parent Mentors Gathering at Gale Elementary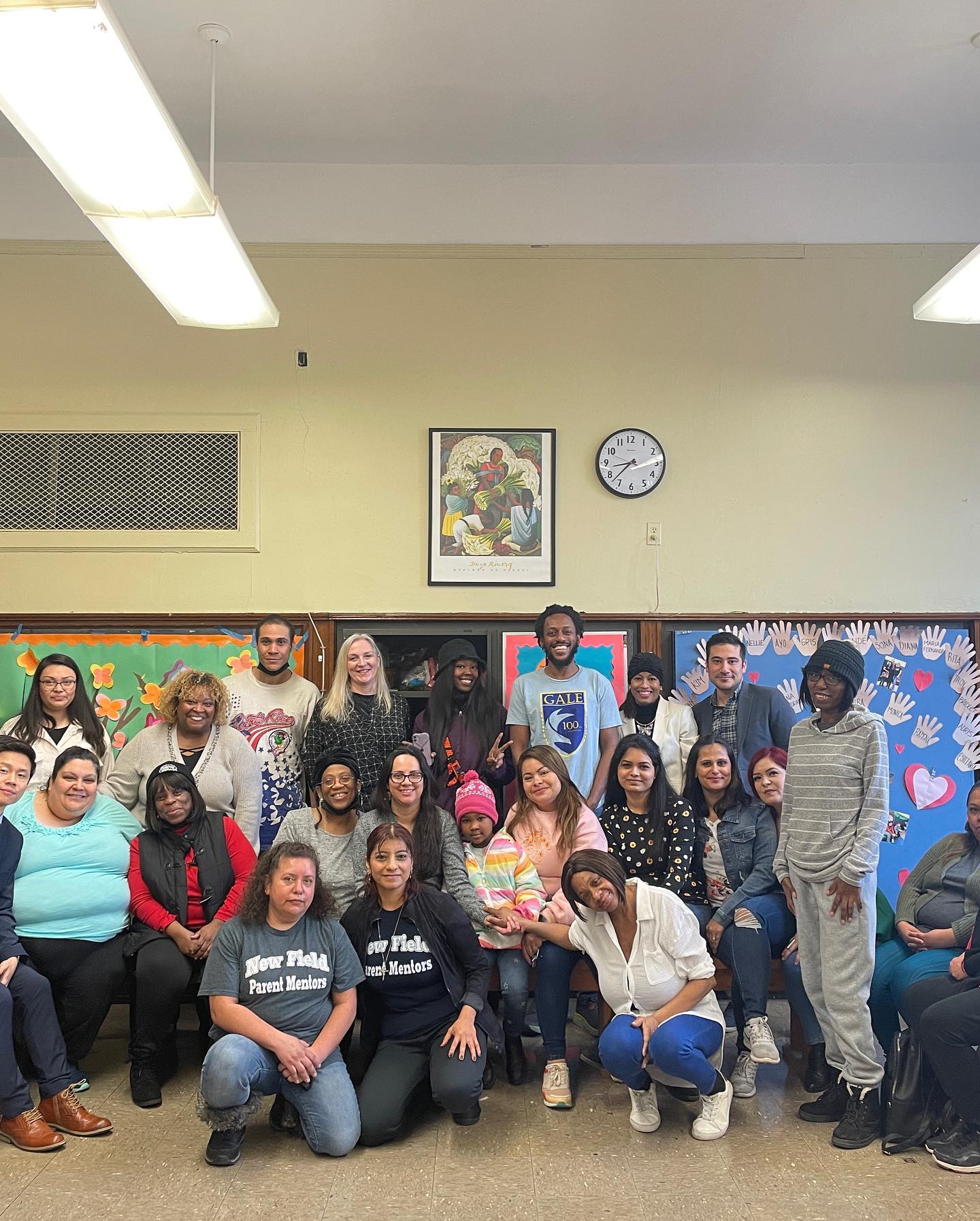 Caption: Senator Mike Simmons with parents and students of Gale Elementary gather to discuss the Parent Mentors public school program.
Do you know about the Parent Mentors program in our 7th District schools? It places dedicated parents in the classroom to support students and educators alike. It was awesome to meet with the Parent Mentors and leaders of Gale Community Academy in Rogers Park last week, where I saw first-hand how this program has helped students, parents, and the community. This program provides healing, a sense of connectedness, a safe haven, job skills, and most importantly loving support to the classroom. For more information, click here.
---
Community Resources
Medicaid Redeterminations | Get Ready to Renew your Medicaid!
If you receive Medicaid, make sure your account information, especially your home address, is up to date! Illinois is starting renewals again and everybody's renewal date is different, so it is critical that you get ready to renew!
Don't risk losing your Medicaid! Here is what you need to do:
1. Click Manage My Case at abe.illinois.gov
Create or login to your account at abe.illinois.gov to manage your benefits. Online is the best way to connect.
2. Verify your address
If you use Medicaid, you need to keep your address current. Click Manage My Case and verify your household information under 'Contact Us,' or call 1-800-843-6154.
3. Find your due date (also called a redetermination date).
Your renewal is due once per year. To find your due date (redetermination date), check your 'Benefit Details' tab at abe.illinois.gov. Do you want reminders when it's time to renew? Opt-in for text and email alerts in the 'Account Management' tab under 'Manage your communications preferences.'
4.Watch your mail
We will mail your renewal a month before it is due. You will get an official letter about your Medicaid status. It will tell you if you need to complete a renewal form to renew your benefits. The envelope will look like this:
5. Complete your renewal
If your letter says you need to complete and submit your renewal before the due date (also called redetermination date) to avoid losing your Medicaid. To renew, click Manage My Case at abe.illinois.gov, mail your form according to the letter, or call 1-800-843-6154.
ILBCF Scholarships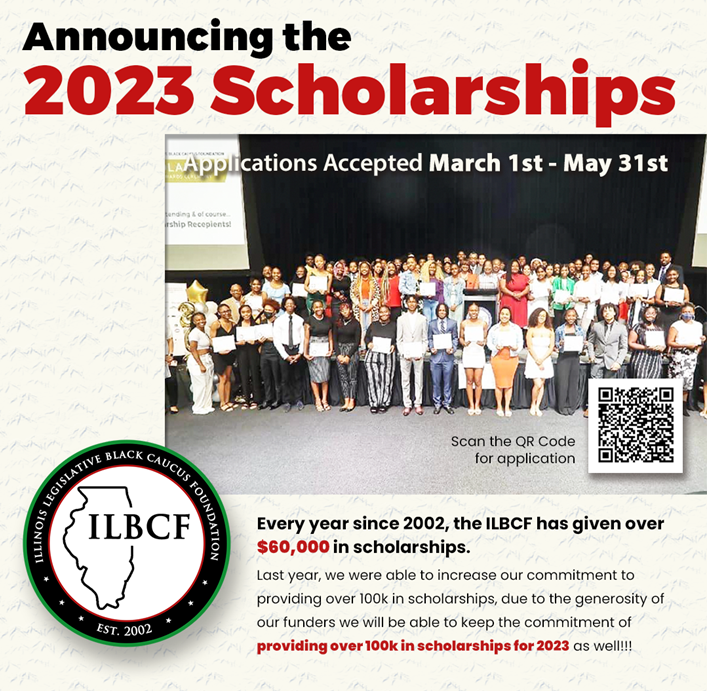 The 2023 Illinois Legislative Black Caucus Foundation (ILBCF) Scholarship is now open! The scholarship cycle runs from March 1 - May 31. This year the ILBCF is providing over $100k in scholarships to high school seniors and undergraduate students who will continue their education at a two or four-year institution in Fall 2023. Their goal is to provide educational resources and financial opportunities for African American students throughout the State of Illinois. Interested applicants can apply here.
CTA Second Chance Employment Program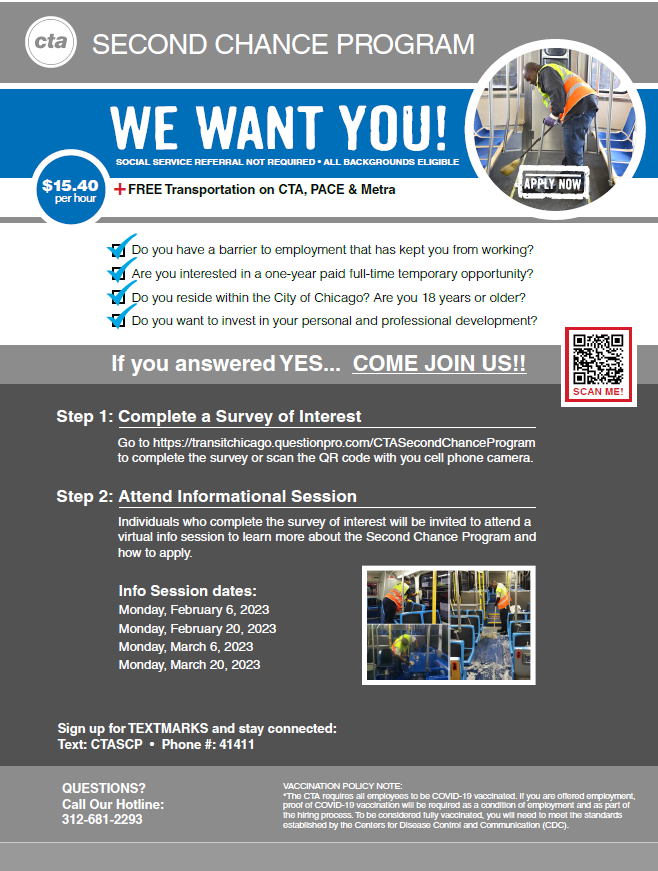 Connect Illinois
Broadband access is critical for homes, businesses and community institutions, which is why Connect Illinois is looking to close the digital gap. Applications for the broadband grant program should be classified under one of three categories: Broadband Access in underserved areas; Broadband Innovation for economic development; or Urban Broadband for expanded access. $350 million total is available with a maximum grant size of $10 million. Applications are accepted through 2024, or until funds are depleted. Learn more and apply here.
---
Thank you for taking the time to read my newsletter! If you ever want to reach out to our office, please call us at 773-769-1717 and we will respond promptly. We can also be reached at This email address is being protected from spambots. You need JavaScript enabled to view it..
Category: Newsletters