Published: Monday, May 01, 2023 01:52 PM
General Updates from Senator Mike Simmons

Dear Neighbor,

We just wrapped up a pivotal week in the State Senate! I am elated to announce that yesterday I passed out of the Senate the first bill in the country that outlaws local book banning in schools and libraries, putting our state on the right side of history and rejecting the hateful wave of punitive legislation and book bans we're seeing in other states like Florida. My bill, SB689 (originally filed as SB1812), preempts local school boards, school districts, or library systems from banning books and includes specific protections for groups that have been targeted for erasure. As the first openly LGBTQ+ person to serve in the Illinois Senate, and as our district's first Black senator, and as a person who cannot imagine living without books, this is especially important to me and to our communities here in the 7th district. After months of work on this bill, I am grateful for my colleague's support of this legislation. You can see my live WGN-TV interview about the book banning bill here! Read more about SB689 and the 9 House bills I'm carrying in the Senate that passed out of committees below under legislative updates.

It's also been a busy stretch in the district! Our office kicked off a series of new small business support initiatives beginning with a corridor walk visiting Asia on Argyle businesses last Friday, and we recently kicked off our monthly townhall series. Read on for more under community updates and news mentions below.

Sincerely,
Mike Simmons
State Senator | 7th District
Legislative Updates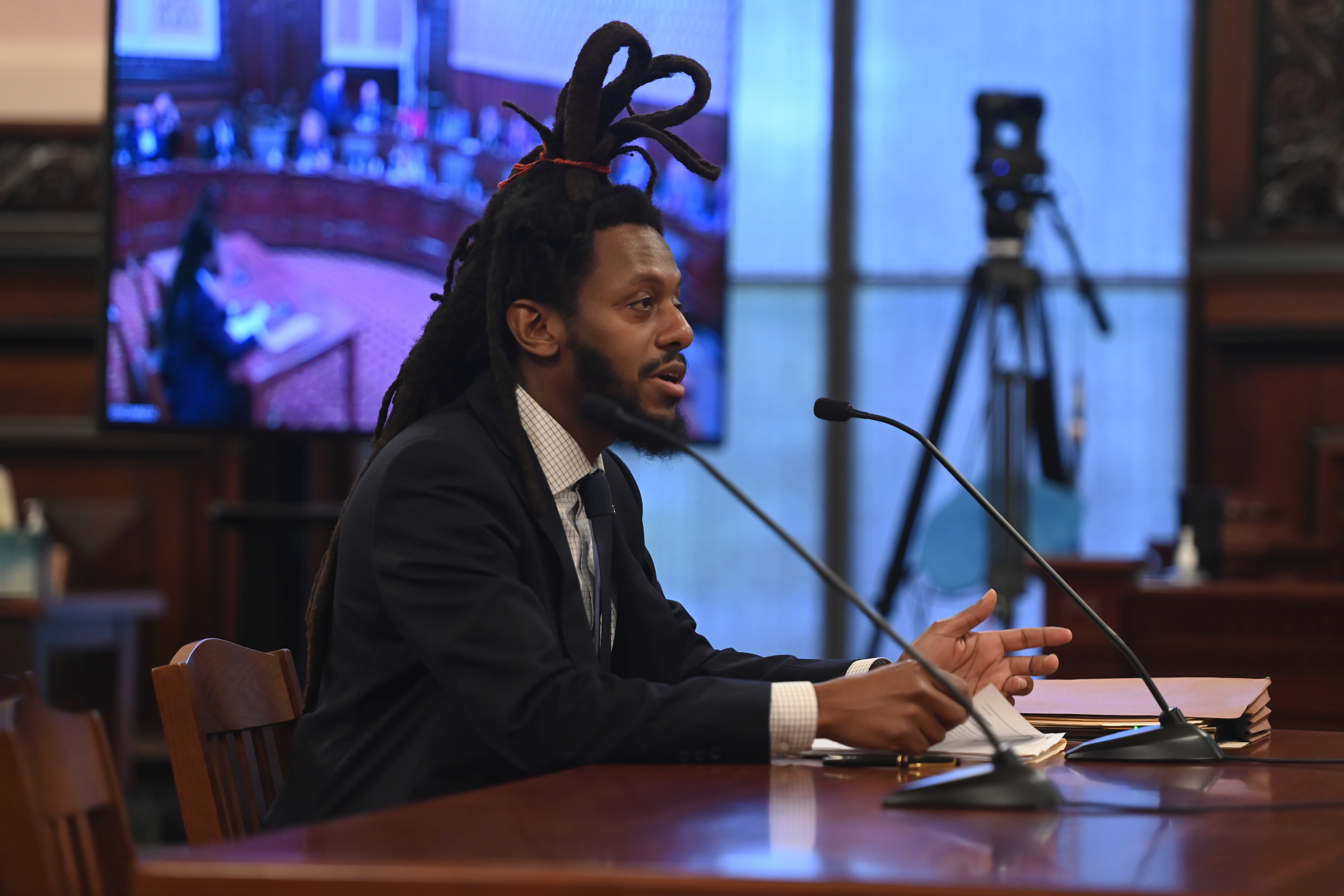 Caption: State Senator Mike Simmons passes 9 House Bills out of committee,
as well as his bill Senate Bill 689 (originally SB1812) to outlaw local book banning in Illinois.
I am proud to share that I have passed 9 House Bills out of committee. All of these directly reflect the needs and issues of 7th District constituents.
In addition to those 9 bills, I am personally proud to have passed one more bill I authored, Senate Bill 689, sweeping legislation which prevents books from being banned in Illinois. Six states have already led efforts to ban books, and in the 2021-2022 school year more than 2500 books were banned across the country. We are seeing whole communities being erased from school curricula, public libraries, and community centers, and so by passing SB689 we are getting ahead of this hateful wave and putting Illinois on the right side of history.
SB 689, originally filed as SB1812, prohibits library systems, school districts, school boards, and trustees of a library or village library from limiting access to or prohibiting the purchase of books or materials related to autobiographies, biographies, memoirs, race, ethnicity, sexual orientation, sexual and reproductive health, gender identity, religion, human rights activism, or any other subject. My goal with this measure is to ensure that every person in our state, especially young people – that next generation of LGBTQ+ youth, that next generation of youth struggling to find their place in our society – has the right to free and robust access to all books, just as I did growing up. I learned to read at Sulzer Regional Library in Lincoln Square, and that space and so many other local libraries are where I found books that helped validate my experiences as a gay young adult in our society. So I am personally proud to fight for that basic privilege for everyone else. The bill will now move through the House.
Here are the 9 House Bills I passed out of committee:
HB 1591 protects same sex marriages in Illinois by repealing the Illinois Marriage and Dissolution Act. This bill provides that same-sex couples can receive a marriage license in Illinois without requiring a signature from an official from their previous state.
HB 2464 increases pedestrian safety by enabling crosswalks and intersections that lack traffic lights to use a traffic control device like a Hawk signal.
HB 1596 amends various public acts concerning children to contain more inclusive language, such as changing certain pronouns to general nouns or the nouns to which the pronouns refer, and replacing "biological" family or parent with "birth" family or parent.
HB2131 creates the Zero Traffic Fatalities Task Force, which will report a detailed analysis of existing practices around speed limits, reduction of speed limits, steps to eliminate vehicular, pedestrian, and bicycle fatalities on roads, and the impact of local bicycle and pedestrian plans.
HB 2297 adds state employees who identify as non-binary or gender non-conforming to the list of women, minorities and persons with physical disabilities in regards to agencies tracking this information to help guide efforts to achieve a more diversified state workforce.
HB 2562 ensures heating and cooling standards for properties that limit their ownership, rental and occupancy to people 55 years old or older.
HB 2776 requires that community water supply operators must send a written notice via email to property owners and occupants of buildings affected by lead service line replacements, and requires the City of Chicago to publicly post data on their website on the progress of installing lead service lines.
HB 3414 prevents minors who are survivors of human trafficking, or other factors such as sexual abuse, from being tried as adults in certain criminal cases. It reforms the criminal legal system and clarifies whether or not a minor should be tried as an adult if the crime the minor commits is against someone who was convicted of human trafficking or of a sex crime targeting the minor within the last three years. If that is the case, the court may transfer them to juvenile court.
HB 3631 prohibits Pharmacy Benefit Managers from retaliating against pharmacists who disclose information to a court, administrative hearing, before a legislative commission or more, as long as the pharmacist reasonably believes the information they have disclosed is evidence of a violation.
Senator Simmons to sit on Housing Transition Committee for Mayor-Elect Brandon Johnson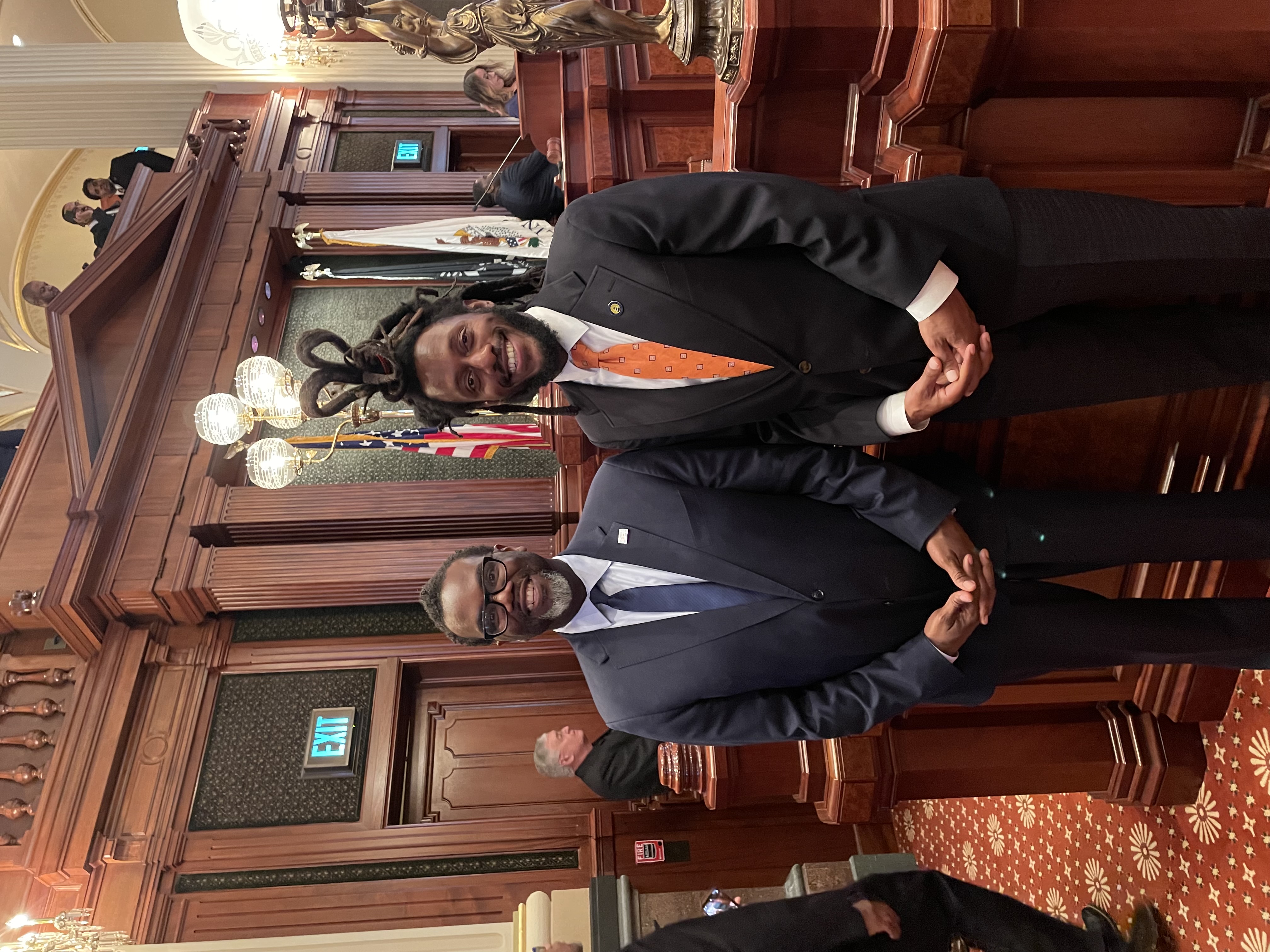 Caption: State Senator Mike Simmons with Chicago Mayor-Elect Brandon Johnson at his speech to the Illinois General Assembly on Wednesday, April 19.
I look forward to working closely with Mayor-elect Brandon Johnson, and am happy to share that I will be sitting on his Housing Transition Committee! Safer communities that are affordable, accessible, and thriving for every family at every level - that is our common goal. I am honored to lend my knowledge and experience and to lift up the very unique housing needs of our far north side communities to his team as they prepare a housing policy agenda for the Mayor-elect's first 100 days.
The photo above was taken last week when my colleagues and I welcomed Mayor-elect Johnson to the State Capitol for a joint session address to the House and Senate. I appreciated the Mayor-elect's early outreach to state legislators. The Mayor-elect spoke with conviction and inspired hope for the future of our city. He also took the time to meet individually with the Senate Progressive Caucus, of which I am a member, the Senate Black Caucus, the Asian-American Caucus, and the other diverse caucuses of the General Assembly! I'm excited to welcome our new mayor to the 7th District for summer events, and look forward to collaborating with him and our alderpersons to serve our neighborhoods across the 7th District!
Category: Newsletters