Published: Wednesday, September 27, 2023 11:28 AM
General Updates from Senator Mike Simmons
Dear Neighbor,
I wanted to fire off a special edition newsletter with some new and interesting content. First, I had the chance to do an in-depth interview about my 7th District youth-inspired legislation that will soon create the first statewide youth mental health policy council. See the link to the full interview below.
I also participated in a sprawling and in-depth Chicago Tribune series profiling Illinois's prominent role in the Underground Railroad. I think it is compelling that so many brave and courageous souls fled slavery and found their way to freedom right through many of our rivers, forests, and backcountry roads throughout Illinois. A branch of my own family on my mom's side was living in Michigan as early as 1846, and very likely participated in the Underground Railroad. See below for the link to the story.
Lastly, you'll see a graphic below for our next traveling office hours event at Senn High School on Oct. 3rd. This time we will be curating the townhall for 7th District youth! Enjoy the newsletter and have a safe and fun weekend!
Sincerely,
Mike Simmons

State Senator | 7th District
---
Senator Simmons Discusses Youth Mental Health in Illinois with Outside the Loop Radio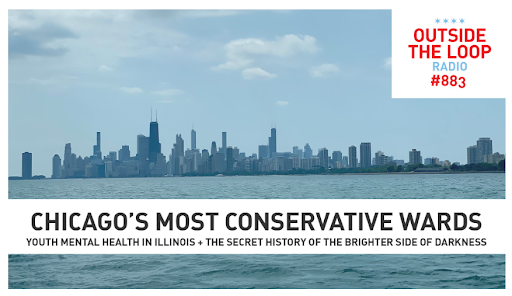 Caption: Senator Simmons is interviewed by Outside the Loop Radio to discuss youth mental health.
I recently took an interview with Mike Stephen of Outside the Loop to discuss youth mental health in Illinois and my legislation, which requires schools to instruct on how and where youth can access mental health resources. The new law also establishes a soon to debut, first of its kind statewide Student Mental Health Council which will include 14-25 years olds who are queer, black and brown, and others who have been underrepresented in discussions at the State Capitol around how to improve access to mental health.
To listen to the full interview, click here (my segment begins at 16:05.)
---
Underground Railroad Task Force and Keeping the Legacy of Freedom Seekers Relevant and Present
by Darcel Rockett of the Chicago Tribune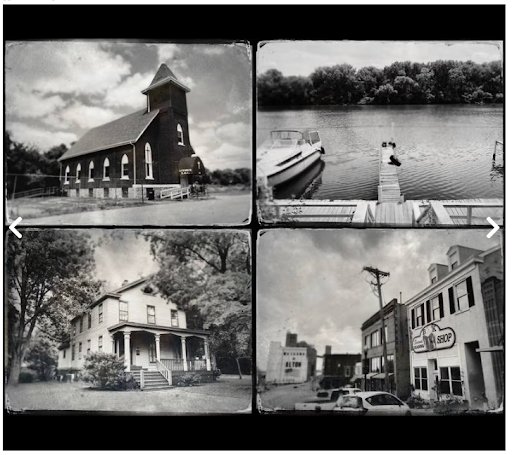 Caption: Clockwise from top left: The Antioch Baptist Church in Venice, Chicago's Finest Marina in Chicago, the Second Reading Book Shop in Alton and The Gillett House in Jacksonville are all Underground Railroad sites in Illinois. Photographs were made using an iPhone tintype filter. (Terrence Antonio James/Chicago Tribune)
'State Sen. Mike Simmons, a North Side Democrat, said that having recognition of the Underground Railroad, specifically Illinois' prominence in the Underground Railroad is long overdue. As someone who has branches of his family tree in Michigan as early as 1846, Simmons said his ancestors probably used the Underground Railroad network.

"It's a fascinating point of reflection that Black Americans found a way out of slavery before emancipation through the backcountry and waterways and swamps and thick forests and hostile terrains of several American states largely of their own agency," Simmons said.'

Recognition of the Underground Railroad and Illinois' prominence in that history is long overdue. It was a deep and profound joy to personally contribute to Darcel Rockett's incredible Chicago Tribune article which brings attention to the untold stories of Black communities and freedom seekers and allies in Illinois who shaped and established the local networks of the Underground Railroad in the 1800s.
On my maternal side, I personally can trace back my own family's lineage to 1846 when a branch of my Black-American ancestors were already living in Michigan. They were undoubtedly a part of the Underground Railroad that ran through Illinois and Michigan and several surrounding states. It is incredible to fully honor and recognize this important history in Illinois. In a significant step in honoring our history, I am proud to have co-led passage of SB1623 into law, which will create a task force to develop a statewide plan to connect existing local projects and new projects to create a cohesive statewide history of the Underground Railroad in Illinois, and create new educational opportunities. We all must keep our collective history alive, especially in the current climate where a movement has grown to erase black history and other communities' American stories.
7th District Ties to Underground Railroad
The Underground Railroad in Illinois has direct ties to the 7th District, with Graceland Cemetery at 4001 N. Clark St. in Lakeview being the final resting place for at least 29 Underground Railroad activists. Accompanying her article on freedom seekers, Darcel Rockett compiled a list of Illinois Underground Railroad historic sites, specifically highlighting Graceland Cemetery, which you can read here.
In 2021, the National Parks Service added Graceland Cemetery to the National Underground Railroad Network to Freedom. To read about their legacies, please visit gracelandcemetery.org/underground-railroad-activists.
Calling All Youth:
Traveling Office Hours at Senn High School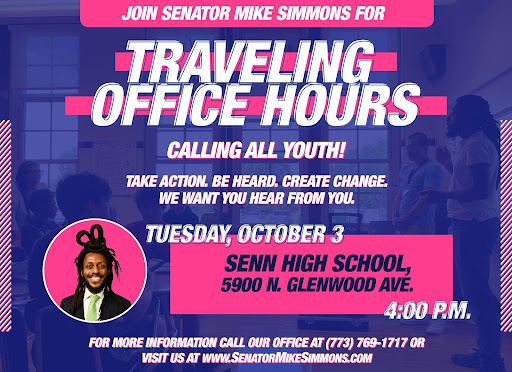 Calling all youth! Join me and my office on Tuesday, October 3 from 4-5PM at Senn High School and make your voices heard at our Traveling Office Hours event. Whether you're in elementary, junior high, or high school, we want to hear from you about your concerns, questions, and ideas. Your voice is so important and deserves to help shape the future of government in Illinois. See you there!
---
Thank you for taking the time to read my newsletter! If you ever want to reach out to our office, please call us at 773-769-1717 and we will respond promptly. We can also be reached at This email address is being protected from spambots. You need JavaScript enabled to view it..
Category: Newsletters