Published: Tuesday, January 10, 2023 09:42 AM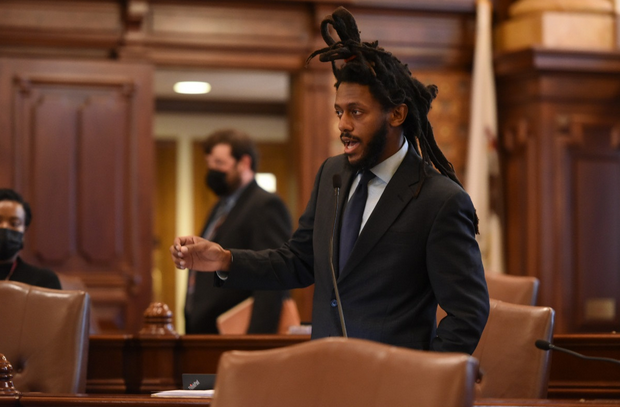 SPRINGFIELD – On Monday evening, Senator Simmons voted in favor of legislation which passed in the Senate that bans the sale and manufacturing of assault weapons and high capacity magazines. Senator Simmons is a tireless advocate against gun violence and has fought for years against the deadly shootings that have plagued Illinois communities.
"We have taken a monumental step forward in passing HB 5471, the Protect Illinois Communities Act, which will save lives and rebuild communities," said Simmons (D-Chicago). The gun safety legislation also places a ban on rapid-fire devices and increases the duration of a Firearm Restraining Order from six months to up to one year. "Gun violence has rocked our society - from neighborhoods in Chicago, to suburbs and towns all across Illinois. Today, we have made historic progress by passing one of the strongest assault weapon bans in the country in partnership with community advocates including Moms Demand Action - Everytown for Gun Safety, Brady United Against Gun Violence, Giffords PAC, as well as constituents from my district who are survivors of gun violence who we convened to help shape my advocacy on this gun legislation. Collectively we have worked together to advocate for and pass strong policy to get weapons of war off our streets and impose enforcement mechanisms that will help us make our communities safer."
Studies show that approximately one-third of public mass shooting events include the use of an assault weapon, and nearly 40% involve a high-capacity magazine. The Highland Park shooting, which occurred only six months ago, was part of a six-week period in which mass shooters using semi-automatic weapons killed more than 40 people in Buffalo, New York, Uvalde, Texas, Tulsa, Oklahoma and Highland Park, Illinois combined. House Bill 5471 bans assault weapons and high-capacity magazines from being manufactured or sold in Illinois.
"I want children in our community to walk to school and feel safe, moms and dads to see their children grow up and become adults, and for our schools, places of worship, public transit, and nightclubs, to be places where we can live and gather in peace. Thank you to so many of my constituents whose lives have been directly impacted by gun violence who have partnered with my office to make our advocacy efforts on gun control more robust and directly responsive to the lived experiences of 7th district residents."
Senator Simmons has and will continue to be aggressive in supporting strong gun control legislation. He was also chief cosponsor of HB 4383, a bill signed into law in April that requires all guns to be serialized. He also sponsored HB 4729 which developed a statewide safe gun storage public awareness campaign.
House Bill 5471 passed the Illinois Senate on January 9, 2023 and now goes to the House for further consideration.
Category: Press Releases