Published: Tuesday, March 21, 2023 12:13 PM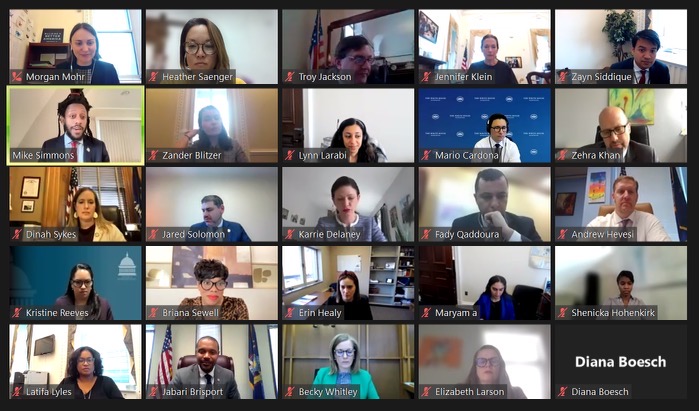 CHICAGO – To promote child care access and affordability, State Senator Mike Simmons took part in the White House State Legislative Convening on Tuesday, speaking on Illinois' paid leave legislation and his proposed child tax credit.
"It was an honor to meet with White House officials and fellow Federal and State legislators today," said Simmons (D-Chicago). "Working parents are struggling more than ever before, and it is time we find solutions at State and Federal levels to help provide families with affordable and accessible child care and services. I want the next generation of moms, dads, caretakers, aunts, uncles, grandparents and children to live dignified and abundant lives where they are not always struggling to meet the most basic expenses."
During the meeting, Simmons highlighted Senate Bill 1444, which would create an Illinois Child Tax Credit for eligible low- and middle-income Illinois families. Families would receive a $700 tax credit for each child under the age of 17, benefitting joint filers earning less than $75,000 and single filers earning less than $50,000.
"Children need to feel secure that their needs are being met," said Simmons. "And every parent deserves to raise their children without chronic economic stress. I am proud of the recent steps forward Illinois has taken to support childcare access, and the proposals that are being considered this session, such as the state-level child tax credit I've introduced. The Biden Administration has made many important strides in passing policy that has provided families with relief, and I am honored to join the White House today for this timely discussion."
Simmons also spoke about the recent signing of the Paid Leave for All Workers Act, chief-sponsored by Illinois Senate Majority Leader Kimberly A. Lightford (D-Maywood). The Act made Illinois the third state in the U.S. to guarantee paid leave. Under the new law, employees in Illinois will be provided a minimum of 40 hours of paid leave per year that can be used for any reason. Starting on March 31, 2024, or 90 days following commencement of employment, workers can begin using their earned time off for any reason without the requirement of providing documentation to their employer.
The virtual event included White House officials Julie Chavez Rodriguez, senior advisor to the president and director of the White House Office of Intergovernmental Affairs; and Jennifer Klein, assistant to the president and director of the Gender Policy Council; as well as state legislators from Indiana, Maryland, Kansas, Michigan, Minnesota, Montana, New York, North Dakota, Maine, Missouri, New Hampshire, South Dakota, Washington and Virginia.
Category: Press Releases