Published: Wednesday, June 09, 2021 10:08 AM
Hi Neighbor,
It has been an immense honor serving you and the folks of the 7th District this session. Throughout the session, I have prioritized equity and justice for those who need it most. I am excited to update you on the actions taken in Springfield to fight for you and a better future for Illinois.
Read on for updates on the budget, transportation projects in the 7th District, legislation of interest, and important community resources, including IHDA's new 2021 Rental Payment Program funded by the American Rescue Plan.
The FY 2022 Budget
The General Assembly came together to pass a budget that meets the immediate needs of the communities across the state in areas of violence reduction, affordable housing, education, and public health, and ensures we strengthen child care. Besides increased funding for our K-12 schools and more money for need-based grants for our college students, it includes funding for violence reduction programs and youth summer employment. Medicaid funding was expanded, and we've made investments in the child care that parents need right now.
Most importantly, this budget was achieved without increasing the burden on the working people of Illinois, in part by closing four corporate loopholes worth $655 million to the state and $42 million to local governments. That is a true reflection of how we should approach state finances as we look forward to Fiscal Year 2023 and beyond.
Transportation and Infrastructure
I am excited to announce $2.5 million in construction projects in the 7th Illinois Senate District that will improve roads and make accessibility improvements. These projects represent some much-needed improvements to major arterial streets in the 7th District. These improvements will upgrade our roads, make sure the streets and sidewalks are accessible for pedestrians and people living with disabilities, and generate good jobs at the same time. The funding is part of the $20 billion Rebuild Illinois construction plan's 2022 slate of construction.
The projects will improve:
1.8 miles of U.S. 14 between U.S. 41 and Ridge Avenue (2022)
A mile of U.S. 41 from Ashland to Lake Shore Drive (2022)
Pedestrian improvements to Ridge Boulevard from Howard Street to the south of Pratt Boulevard (2023-2027)
You can see details here.
Ethics reform - SB 539
During this session, I worked with my colleagues to pass ethics reform to hold our government accountable to residents. Below are some of the updates from the ethics bill. I would have liked the ethics bill to go much farther and will be pushing for tighter restrictions in the next ethics measures we consider.
Lobbying
Prohibits elected officials from lobbying other units of government.
Prohibits executive branch officials or legislators from lobbying for six months after leaving the office or the end of the General Assembly.
Prohibits local elected officials from lobbying for compensation for any entity that is registered to lobby their unit of government.
Campaign Finance
Prohibits an in-person or virtual fundraiser in Illinois on a session day or the day before or after a legislative session day.
Disclosure
Creates a uniform statement of economic interest form. It changes the nature of what must be disclosed, including adding creditors/debtors and increasing thresholds.
Requires candidates filing for Supreme Court Judge, appellate court judge, or circuit court judge to file their statements of economic interests in written or printed form.
Other changes
Ends the last paycheck for nothing game: Pro-rates salaries of General Assembly members who leave office prior to the end of their term.
Allows the Executive and Legislative Inspectors General to initiate an investigation without approval from the Executive or Legislative Ethics Commission.
Prohibits salaried appointees who are subject to the advice and consent of the Senate from serving as an officer for a political committee or active political committee.
Other Legislative Highlights
All of the bills below have been passed by the House and the Senate and are on the way to the Governor's desk to be signed into law.
SB 817 – Jett Hawkins Act
I am a lead sponsor on this bill. The bill bans discrimination against hairstyles in Illinois public, private and charter schools. It prohibits schools from issuing policies or including any language in handbooks about hairstyles traditionally associated with race and ethnicity, including braids, dreadlocks, and protective hairstyles. SB 817 has made local and national news.
HB 3262
I'm the lead sponsor on this bill in the Senate. The bill passed both the House and the Senate. HB 3262 allows survivors of hate crimes to file civil suits for three additional types of crimes. Hate crimes can take many forms, including cases where someone falsely calls the police or other public safety agencies on someone else due to their race, color, creed, religion, gender, sexual orientation, disability, or national origin. This bill will enable those who are wrongfully reported to law enforcement to formally hold the caller accountable for their actions.
HB 3265
I am the lead Senate sponsor of this bill. The bill passed both the House and the Senate. HB 3265 moves to modernize how we define rape crisis organizations. Under current civil procedures, rape crisis organizations and rape crisis centers can't be located in the same facility. This often complicates a survivor's ability to seek resources and the entities' ability to deliver comprehensive services. I support survivors and believe this bill will improve accessibility to critical resources.
SB 667 – The Illinois Way Forward Act
This bill was advanced by the Latino Caucus and will close three immigrant detention centers in Illinois. It ends the contracts between local jails in McHenry, Pulaski, and Kankakee counties with Immigration Customs Enforcement by Jan. 1, 2022. This bill will prohibit any future agreements between ICE and local governments to "house or detain individuals for federal civil immigration violations." I am very proud to have co-sponsored and supported this legislation.
HB 155 – SNAP benefits for Menstrual Products
This legislation would allow menstrual hygiene products to be purchased with federal and state food assistance program benefits. These products are essential. Access to menstrual products is a right for anyone who needs them. I was proud to vote in support of this bill.
SB 636
This legislation would allow a condominium association board to specify that its membership must be made up primarily of residents who live in the building. The bill passed both the House and the Senate. Many condo owners are concerned that members of their association boards are owners who live off-site. It's important to allow condo associations the option to ensure a majority of their board members have a vested interest in the properties and represent those who live there.
HB 58
This bill allows for the removal of racist language from property deeds and the procedure to do it. "Racial covenants" are a tool of housing discrimination that dates back to the 1920s. They use language in deeds and other property agreements to restrict housing access for BIPOC families. While these racist frameworks have been banned for decades, some of this language still exists in deeds, and this bill allows people to follow a specific process to remove it.
SB 967
This bill expands maternal and postpartum care in Illinois by requiring the Illinois Department of Human Services to update its maternal health programs for pregnant and postpartum mothers who are considered high risk. The bill passed both the House and the Senate. The services would be led by registered nurses, social workers, and other staff approved by IDHS. The program would apply to all hospitals that deliver babies. This bill passed the Senate, and I voted in support.
HB 376
I am a sponsor of this bill in the Senate. The TEAACH Act brings holistic Asian American history to Illinois schools. The bill passed both the House and the Senate. Asian Americans have been part of American history for centuries. It's time that their contributions and representation are highlighted in our public schools.
SB 818
I am a sponsor of this bill. The Keeping Youth Safe and Healthy Act requires Illinois public and charter schools to teach comprehensive personal health and safety education in grades K-5 and comprehensive sexual health education in grades 6-12. The education will be age and developmentally appropriate, medically accurate, complete, culturally appropriate, inclusive, and trauma-informed. A parent or guardian can also opt their student out of instruction if they choose. This bill empowers young people by giving them the education and tools they need to be safe and make informed decisions for their health throughout their lives. SB 818 passed both the House and the Senate.
Other important legislation
HB 3084 (Also known as SB 1826)
I am a proud sponsor of this bill. This bill creates the Consumer Choice in Maternal Care for African-American Mothers Pilot Program Act. It requires that the Task Force on Infant and Maternal Mortality Among African Americans to partner with community-based maternal care providers to develop rules and regulations for a Medicaid voucher pilot program to expand consumer choice for Black mothers. This voucher program would include planned home birth services and in-home perinatal and postpartum care services provided by racially concordant nationally accredited certified professional midwives. This also requires that the DHFS begin the program no later than Jan. 1, 2023.
The pilot program would operate for a 5-year period. The Task Force is required to submit annual reports to the General Assembly, which will provide a status update on the pilot program and annual impact.
Black mothers in Illinois die of pregnancy-related medical causes at eight times the rate of white mothers. This is unacceptable and exposes the systemic racism in our maternal care. This bill is critical to prevent pregnancy-related deaths among black mothers in Illinois.
What's next? The bill is still under committee consideration and likely will be taken up in early 2022.
Community resources
Survey for Care for Real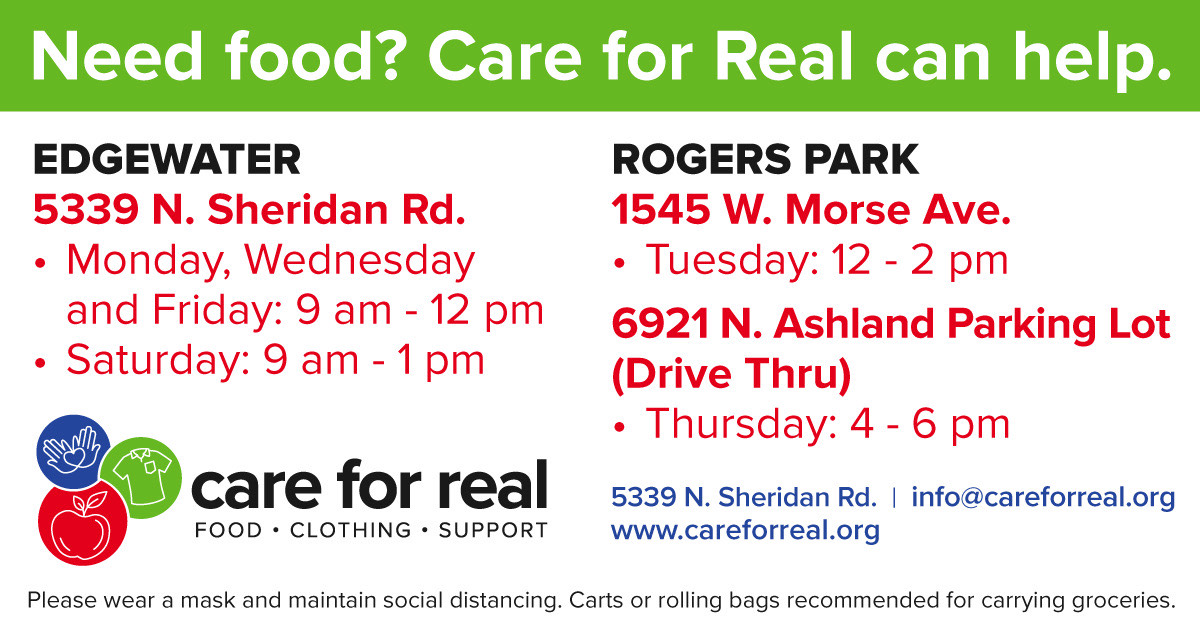 Care for Real is preparing to celebrate its 50th anniversary! They are launching a strategic planning process as they look forward to the next couple of years. Fill out this survey and share your thoughts! https://www.surveymonkey.com/r/95LNJJ2
Care for Real is now distributing 6 days a week! Their hours are below:
For renters:
2021 Illinois Rental Payment Program
ILRPP is an emergency rental assistance program designed to support households in Illinois that are unable to pay rent due to the COVID-19 pandemic. Tenants and housing providers must work jointly to apply for these grants until June 9, which can cover past due rent from the previous 12 months and up to three months of future rent, for up to a total of $25,000. You can read more about eligibility and how to apply here.
Starting on June 28, tenants can apply individually without their landlord!
If you need help applying for the ILRPP, contact my office at 773-769-1717.
What's going on in the 7th District?
Edgewater Monday Market
The Edgewater Farmers Market has moved to Mondays at 7 p.m. throughout June in the Broadway Armory parking lot, 5917 N. Broadway. Sixteen local vendors will sell fruits and vegetables, fresh pastries, meats, and a selection of prepared foods. Read details.
Farmers Markets open in Rogers Park and Andersonville
The Glenwood Sunday Market,1233-41 W. Pratt, is open on Sundays beginning June 6 from 9 a.m. to 2 p.m. Details. The Andersonville Farmers Market located on Catalpa between Clark and Ashland is open on Wednesdays from 3 to 7 p.m. Details.
Vaccine event!
The Rogers Park Presbyterian Church and Near North Medical Group are hosting a community vaccine event at the church, 7059 N. Greenview Ave., on Saturday, June 19 from 10 a.m. - 2 p.m. They will be administering the Pfizer vaccine, so anyone 12 years of age or older can get vaccinated! No insurance required. Parents or guardians must be present for minors to receive the vaccine. This will be a walk-up event; no appointment is necessary.
Your friend,


Mike Simmons
State Senator, 7th Illinois Senate District
Category: Newsletters